Olivier Giroud targets 100th Arsenal goal and explains decision to stay at club
By Stephen Turner
Last Updated: 13/09/17 1:45pm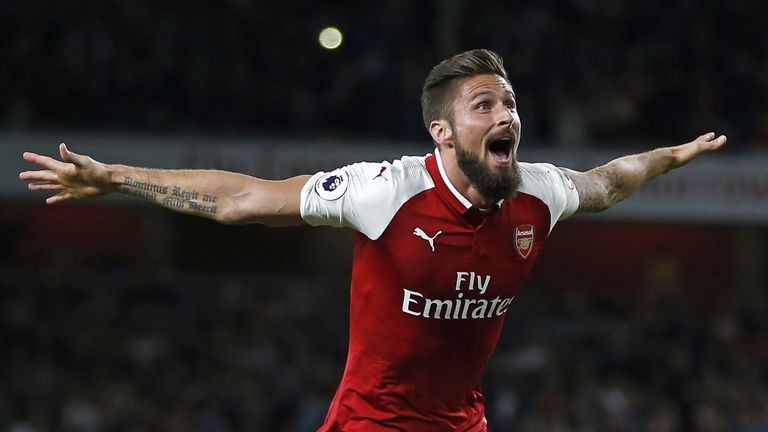 Olivier Giroud hopes hitting the 100-goal mark can be the latest chapter in an Arsenal love story he chose to prolong in the summer.
A Premier League winner against Leicester on the opening day took Giroud to 99 Arsenal goals, but he has since been restricted to 67 minutes from the bench.
That is likely to change when Cologne visit for Thursday's Europa League opener as Arsene Wenger plans changes ahead of Sunday's trip to Chelsea.
And sitting alongside his manager at the pre-match press conference, Giroud said: "It's a privilege for me to play for Arsenal and to score almost 100 goals. I hope it can happen."
The France striker was aware his early-season involvement could be limited following the club-record signing of Alexandre Lacazette, but he chose to stay despite interest from clubs in England and back home.
Wenger risked embarrassing Giroud as he praised his compatriot's "huge contribution" and "loyal spirit" in the five years since his arrival from Montpellier.
And Giroud said: "It's true that I was close to leaving the club because I wanted to play, but after big reflection with everybody around me I wanted to stay at the Arsenal and I thought the story was not finished.
"The club brings me a lot and I think I give it back. I still want to improve, again and again, and win some more trophies with the club. I said to the boss 'our story is not finished' and everyone was pleased with that."