Wenger surprised by Ox rise
Arsene Wenger says Alex Oxlade-Chamberlain is developing 'ahead of schedule', but will not get carried away by his rapid surge to prominence.
Last Updated: 15/09/12 12:11pm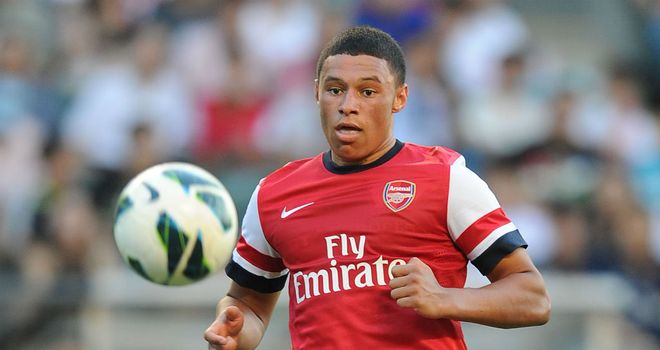 Arsene Wenger believes Alex Oxlade-Chamberlain is developing 'ahead of schedule', but will not get carried away by his rapid surge to prominence.
Oxlade-Chamberlain made the move to Arsenal from Southampton just over a year ago and, after a few months adjusting to his new surroundings, has enjoyed a sensational 2012.
He has forced his way firmly into Wenger's first-team plans at Emirates Stadium and also looks to be establishing himself as an England regular after making the Euro 2012 squad.
Wenger admits he has been surprised by the progress of Oxlade-Chamberlain, who is still only 19, but does not believe the youngster will have any trouble staying grounded.
"He is ahead of schedule, because I didn't expect him to be honestly in the national team at the moment. He is ahead of what I have planned," Wenger said in the Daily Mirror.
"When you come from, basically, youth team football to that level, it's like you go from primary school to university - and you have to learn quickly.
"It can be damaging if a guy thinks, 'Hey, look who I am.' It could be bad if he was a bit big-headed. We have all been young - I'm not sure that we would have dealt well with the situation. It is not easy.
"But he is not like that. In his case, it's good. He is very level-headed, very humble. So I think it's good to experience the tactical level of the other players in England. Honestly - because I feel he needs to get the tactical urgency - for him it is good."
Fantastic
Oxlade-Chamberlain is in contention to face Southampton on Saturday but Theo Walcott, another former Saints prodigy, is struggling with a virus.
Gareth Bale also came through Southampton's youth set-up and Wenger is full of admiration for the newly-promoted Premier League club.
"It is unbelievable the players they have produced," said Wenger.
"First of all, it is fantastic scouting and they have a good development and coaching programme with young players - they started that earlier than anyone else.
"They don't have too many players down there as well. They took many players from here - around our training ground. Walcott - many players from around here. But they must have a good reputation with their youth."
Walcott and Oxlade-Chamberlain have both proved to be effective as wingers but Wenger believes they will go in different directions as their careers unfold.
He explained: "Walcott and Chamberlain are a different style. I believe that Walcott is more of a striker-type and Chamberlain a more midfielder-type.
"You could see Chamberlain developing into a central midfielder but you could never with Walcott. I see Walcott developing through the middle as a striker and Chamberlain maybe a central midfielder."