Arsenal winger Alex Oxlade-Chamberlain asks for patience
Alex Oxlade-Chamberlain has asked for patience as he looks to establish himself as a regular in the Arsenal starting XI.
Last Updated: 30/04/13 3:45pm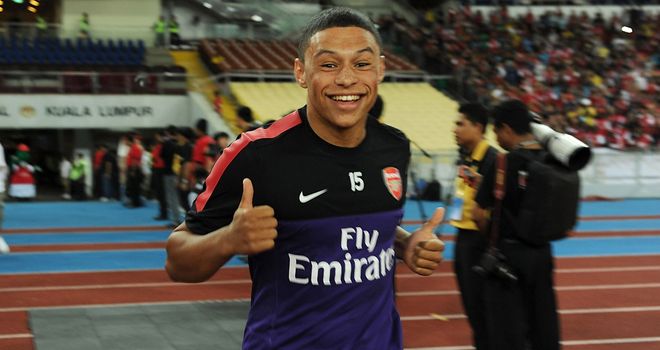 The 19-year-old midfielder, who joined the Gunners from Southampton two years ago, has been largely used as a substitute this season, starting just 11 Premier League matches.
In his time as a top-flight player he has also become a part of the senior England setup, representing his country during the European Championship last summer.
But Oxlade-Chamberlain feels he still has a lot to learn.
"It has been difficult," he said in an interview with the official Arsenal matchday programme.
"There is always pressure, but maybe people forget that I am only 19 and will still be 19 at the start of next season.
"When you have a good first season, especially at 18, people hype you up and really want to see you kick on. They expect you to play lots of games and do really well.
"I have tried to carry on from last season, but sometimes you have to realise that you are a young lad and have a lot to learn.
"The experience of being in a club and league like this is a great education at this age."
Oxlade-Chamberlain has made some telling contributions when coming on as a substitute and is happy to continue fulfilling that role if it is to the benefit of the team.
"You always want to start but your responsibility when you are on the bench, especially as a winger, is to come on, change the game and help drive the boys forward, that is what I have been trying to do, to make things happen and add a different dynamic to the game," he added.
"I have been working on things like my team play, my defensive play and getting back into the right positions off the ball and these things aren't often noticed.
"I started pre-season playing in central roles and have played there in training, so I am trying to develop that as well.
"I am happy with the way things are going and the most important thing is that the team finishes where we need to. I am happy to be a part of that."