FA Cup: Arsenal boss Arsene Wenger defends Theo Walcott
Arsene Wenger has defended Theo Walcott after he made a gesture to Tottenham fans during Arsenal's FA Cup win.
Last Updated: 05/01/14 2:17pm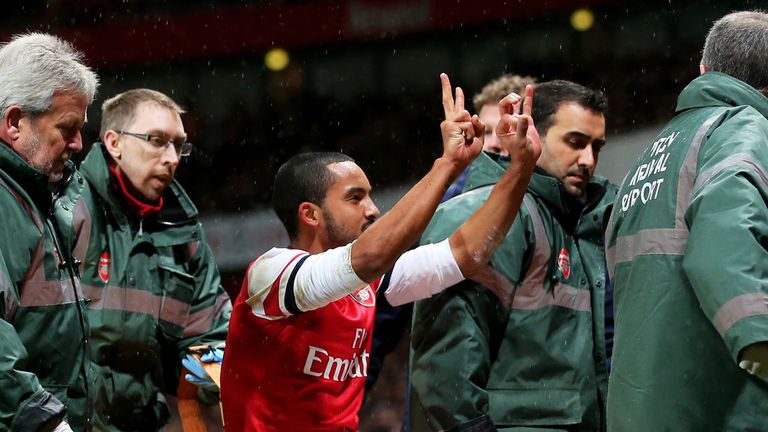 Wenger claimed it was inoffensive and in response to missiles being thrown at the forward.
The England international was pelted with coins and gestured the scoreline to Spurs fans as he was being carried off after taking a knock to the knee in the latter stages of Arsenal's 2-0 win.
The FA will wait until receiving the match report of referee Mark Clattenburg before deciding whether to investigate, but Wenger does not believe that Walcott's actions were offensive.
"The doctors said to me that the coins had been raining over his head and they had to protect him, maybe that is why he did that," said Wenger.
"Yes [the coins came before the gesture], that is what I have been told. After that, what he did is not offensive. You look for every single incident, I can understand that, but it is an action that didn't offend anybody.
Asked if Walcott could be in trouble with the FA, Wenger replied: "I don't think so.
"I have seen the pictures after the game and it does not even look aggressive, he is smiling!
"My response will be simple, they have seen the pictures on television. If they judge it offensive, what can I say? I prefer they don't ban him and he is not injured."
Tottenham manager Tim Sherwood, meanwhile, revealed in his post-match press conference he had not witnessed the incidents.
Sherwood said: "Someone just mentioned it to me in there. I didn't see it.
"Is that what he did? Well, listen I don't know Theo, I don't know him as a lad. It could have been a bit of banter, possibly.
"If they (Tottenham fans) did then it's a problem, isn't it? If they didn't then it's not a problem."
Regarding Walcott's injury, Wenger commented: "Theo has a knee problem. We don't know if it is a stretched ligament or just a kick, he got two kicks on his knee.
"We still have Podolski and Ozil on the bench. Giroud was sick, he was not injured, so for the next game he should be available. Of course if we lose Theo for a longer period, it is a problem."
Wenger confirmed Nicklas Bendtner will be out for a month after suffering an ankle injury against Cardiff on New Year's Day, but the Arsenal boss played down the prospect of January signings.
"It will be for one month, we expected it could have been more, but we had good news," said Wenger regarding Bendtner's injury.
"I am waiting to see now who walks out there and knocks at the door, waiting to come in. Honestly, do we find better than the players that we have got?"