Premier League: Arsene Wenger defends Arsenal's Mesut Ozil
Arsenal boss Arsene Wenger has come to the defence of club-record signing Mesut Ozil after the "accident" at Liverpool.
Last Updated: 11/02/14 1:48pm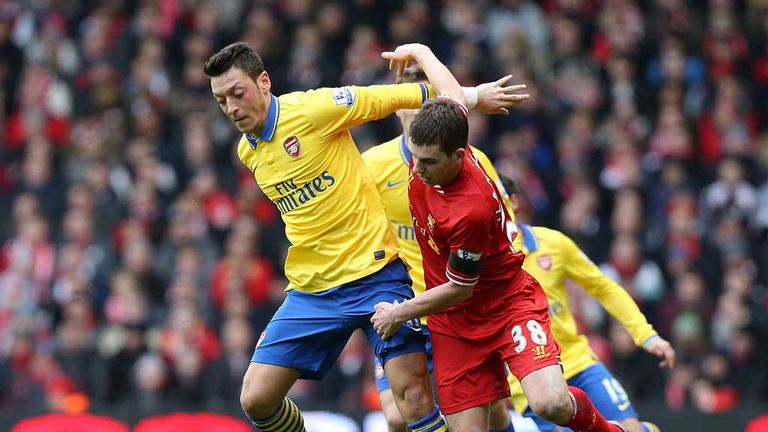 Ozil, who joined from Real Madrid for £42.5m in the summer, was vilified by some supporters for his part in Saturday's Premier League humiliation at Anfield, notably for giving the ball away in the build-up to the third and fourth goals.
Wenger said: "It's always a disappointment to lose a game but we've been very stable defensively; we'd just been on a 10-game unbeaten run so you can't see one game as a trend. It's down to the team to respond in a positive way.
"Mesut Ozil? He was like everybody on Saturday - he was not in a good day. There's nobody really to ostracise from that game - we are just conscious we were not good enough.
"He didn't have the best of games, but that can happen. He works very hard to adapt to the physical level of the Premier League and for me he is an exceptional player.
"I wouldn't like to put too much pressure on him because he has been a top-class player until now. He knows when he is not good enough he will get questioned - that is normal."
While many have seen this defeat at Anfield as a sign of an impending collapse, Wenger is adamant a convincing performance against Manchester United on Wednesday night will help restore harmony.
"Let's not forget we played some convincing games against Liverpool, Tottenham, Napoli and Dortmund," he said.
"Winning the Premier League will be a big achievement when we do it, but we have a long way to go.
"We've been very stable until now defensively. We have to consider how well we have done until now.
"We tend to forget how good we are when you are not successful. We have worked very hard until now. These players deserve success.
"I think the Liverpool game was an accident and we want to treat it like that. We have no injuries from Saturday and we have Sanogo available again.
"We will respond tomorrow (Wednesday) in a very positive way, I'm convinced of that. We know our form at the Emirates will be decisive."