Premier League: Arsenal boss Arsene Wenger says his team can handle pressure
Arsenal boss Arsene Wenger says his team are able to handle the pressure as they chase fourth spot and an FA Cup win.
Last Updated: 17/04/14 12:25pm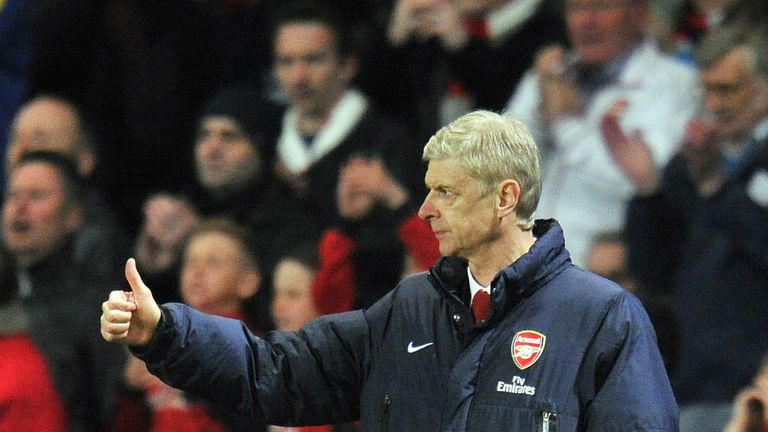 The Gunners, who beat West Ham 3-1 on Tuesday, saw their hopes of Champions League qualification receive a boost when Everton suffered a shock 3-2 home defeat against Crystal Palace on Wednesday evening.
Everton boss Roberto Martinez claimed his side would rather be in fifth place because it takes the pressure off, but Wenger does not agree.
The Frenchman said: "Pressure is positive because you play for something and when you play for something it's a challenge but, as well, a great opportunity to do well, that is what we live for.
"What we want to do is win our next game and the best way to deal with that situation is to win the next one.
"I want what is satisfying, and for me it is to do as well as we can until the end of the season and turn and think that this team has behaved really like a top level professional team with the ups and the downs.
"You want to feel that your team has given as much as they could and after that you leave the judgement to other people."
Wenger claims the positive mental effect of reaching the FA Cup final, by beating Wigan on penalties in the semi-finals last weekend, and the win over the Hammers has brought belief back to his team.
He said: "A team who doesn't win is not happy and questions come out very quickly, so what is important to play football well is you have to be completely confident and believe in your game. The belief is stronger when your recent history of the team is positive."
Wenger revealed that Mesut Ozil may be fit to play in Arsenal's game at Hull City on Sunday, which will be a warm-up for the FA Cup final at Wembley on May 17.
The German midfielder has been sidelined with a hamstring injury since Arsenal were knocked out of the Champions League by German side Bayern Munich five weeks ago.
Wenger is pleased to have the creative ability of Ozil back as the Gunners look to improve their poor goalscoring record away from the Emirates.
He said: "It's good to have him back. He is one of our main players offensively and we are a team that is used to scoring goals. Recently away from home we have not scored so much, so it's important we get back our offensive potential.
"I have to test him physically on Friday and Saturday to see if he can travel, before he got injured he had a period where he was a bit jaded.
"He is a fantastic player and I would put him on the list to be footballer of the season - for next season."
Watch Arsenal take on Hull City at 2.05pm on Sunday afternoon - live on Sky Sports 1.