David Moyes reveals Everton vision as he stays calm over contract situation
David Moyes has revealed his vision for Everton despite his future at Goodison Park still being uncertain.
Last Updated: 29/03/13 7:28pm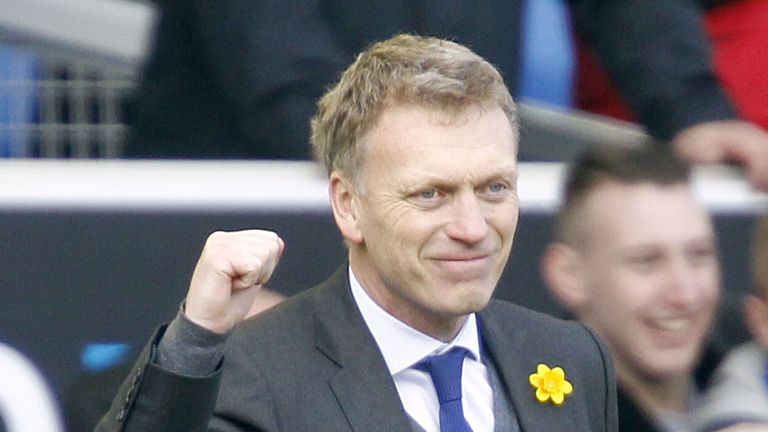 Moyes, who has managed Everton for the past 11 years, is out of contract in the summer, and Toffees chairman Bill Kenwright admitted earlier this week that there is no other man he wants in charge.
The Scotsman has said he will not make a decision on his future until the end of the season, but moving Everton forward is his priority.
"Being at Everton is something I would be really happy with," he said.
"But we have been talking for a long time now, three or four months, and everyone nudges along a little bit further every time we speak. As I have said, we will conclude that at the end of the season.
"What I am trying to do is make sure I give Everton the best chance of going forward. I wouldn't want it any other way.
"I would never do anything, in any way, to jeopardise Everton or the football club.
"I want to make sure the supporters see a promising, fresh-looking team for the seasons to come.
"We have to make sure the finances we have give us the opportunity to do that.
"We have a small squad, and in truth we have an ageing squad as well, which we need to look at.
"I need to be capable of being able to make those changes for the best of Everton.
"We are well aware of where we are at this moment in time. I have always said that where we finish, what we do at the end of the season - that will be a better time for us to make a decision than just now."
Kenwright revealed he had already received calls about the manager's job, and Moyes said: "It is a great job, Everton. It really is."
Stoke visit Goodison Park on Saturday amid a poor run in which they have won just one of their last 11 games.
Moyes added: "We know Stoke are hard to beat.
"Their record at this time isn't great but they tend not to concede too many goals.
"Whenever we have played them it has been close. We have had a lot of the ball but never been able to break them down.
"We have always had hard games against Stoke, as have most teams in the Premier League. I won't expect it to be any different."