David Moyes insists there is no rift with Everton chairman Bill Kenwright
Manchester United manager David Moyes says he still enjoys a good relationship with Everton chairman Bill Kenwright.
Last Updated: 04/12/13 6:54pm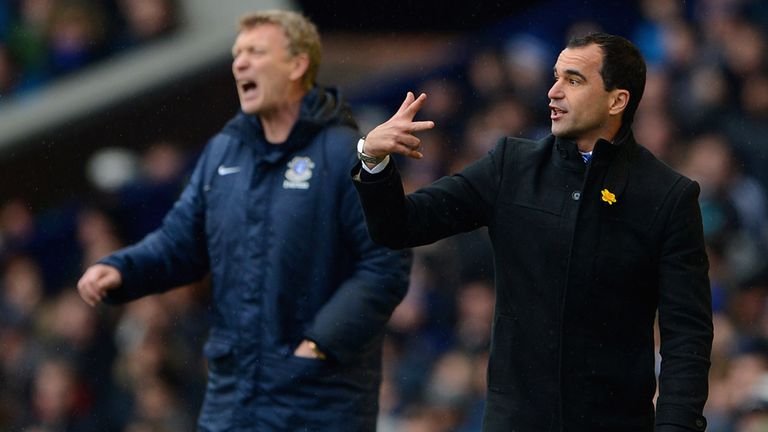 Moyes was appointed as Sir Alex Ferguson's successor at United this summer after 11 years in charge of Everton.
And the 50-year-old, who will entertain an Everton side looking for their first win at Old Trafford in 21 years, insisted his only focus is his new position as United manager.
"I don't think anyone would have turned it down - the opportunity was too big." Moyes said. "Obviously I have fond memories. You don't just throw 11 years away.
"But I have had to divorce myself from it. United is my team now and all my concentration has been on them."
Moyes is expecting a mixed reception from the travelling Everton support - some of whom remain incensed by the Scot's relentless pursuit of both Marouane Feilani and Leighton Baines.
Feilani eventually completed a £27.5million transfer to United, but Baines remained at Goodison Park and Moyes downplayed suggestions that Everton chairman Bill Kenwright was unhappy about his conduct during the affair.
"Once I got the United job, I discussed it with Bill near enough immediately," Moyes said. "I said that there would be some players I would be interested in.
"Bill was well aware of it but obviously it was always going to be a difficult thing when it actually came to it.
"That is football. I speak with Bill Kenwright regularly. We both knew that this would happen but it is never that easy.
"I had a great working relationship with Bill and the board of directors there, and that is the way it remains."
Meanwhile, Everton manager Roberto Martinez insists the blend of experience and youth in his squad gives them the tactical flexibility to put in a good performance at Old Trafford on Wednesday.
"We need to be flexible tactically, we need to be a team who can adapt different ways of playing," Martinez said.
"In the modern game you are as good as your squad, it is not a game for 11 players any more.
"I am really excited we have terrific senior players in the dressing room who give great direction but it excites me the talent we have with the younger players."
He added: "I always felt Gerard (Deulofeu) would take a little bit of time to settle but on Saturday he showed what he can do and how ready he is to help - that is what we have throughout the team in many positions.
"When you have someone at the age of 19 that is happy to take the experience of living outside the comfort of his homeland and come to the British league with a huge change in culture, that shows you the mentality of Gerard."
You can follow the action from all nine of tonight's Premier League matches online with our live blog and also on Gillette Soccer Special, Sky Sports News HD and Sky Sports 1HD at 7pm