Premier League: Roberto Martinez challenges Everton youngsters
Roberto Martinez has challenged his younger players to seize any chance Everton's injury crisis provides them with.
Last Updated: 26/04/14 11:53am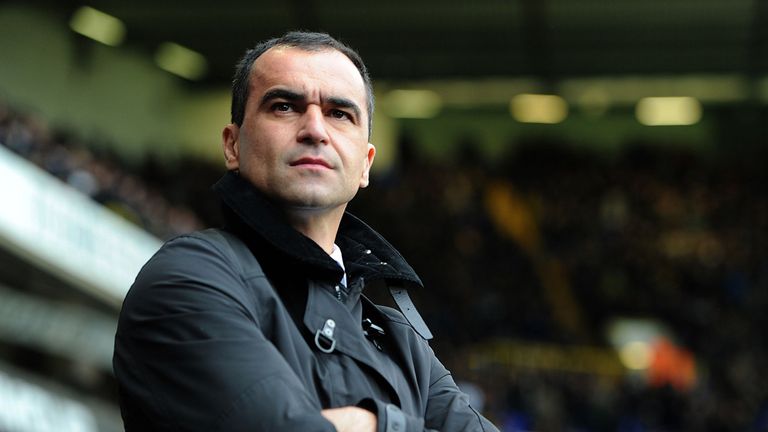 Martinez takes his squad to Southampton on Saturday shorn of eight players including Sylvain Distin (hamstring) and Kevin Mirallas (groin) who were added to the injury list this week.
That leaves the Spaniard, who was running with a small squad anyway, short of options but he has put faith in his younger players before this season with great success and says his Under-21s have the ability to contribute as they bid to stay in the race for a UEFA Champions League berth.
They head to St Mary's one point behind Arsenal in the race for fourth with both sides having three games left to play.
"We have young players who are capable of coming in and showing what they can do and that excites me," Martinez said.
"This weekend maybe we will have to bring in someone from the Under-21s and give him an opportunity.
"That is what we are as a club. We will not blame players that are missing we just celebrate the opportunity given to young players.
"This season we have given opportunities throughout the season. Players aged 19, 20, 21 have been given important roles in the side and it is not about being young, it is about being prepared.
"Probably that unknown quality has given us that extra edge. Look at John Stones and how he has been performing aged 19.
"Sometimes you need that opportunity, which comes through suspension or injury, but that is not a case to be worried we will drop the level of the performance.
"We pride ourselves on the work we do with the youngsters and we need to be brave enough to give them an opportunity.
"You rely on senior figures to help and protect them but the younger players bring you other qualities: bravery, energy, and it is trying to use the good things they bring rather than highlight the lack of experience."
Martinez knows his side, however it lines up, will be in for a tough test against a Southampton side - and manager in Mauricio Pochettino - he is full of admiration for.
"Southampton, in terms of football concepts, are one of the most attractive teams in the league and they have a bravery about the way they play," Martinez added.
"They already have eight points more than they had last season and that shows you the incredible progress they have made. In our eyes it is another very important game we need to be as good as we can be.
"I have huge admiration for (Mauricio) Pochettino. He came in at a difficult time when Southampton had a very successful period with two promotions and he embraced the good work Nigel (Adkins) did and all of a sudden he transformed the team.
"They are very dynamic and they have really good quality in the young players and they have been very impressive. They get good results at home against the top teams and the team plays with an incredible swagger and intelligence."