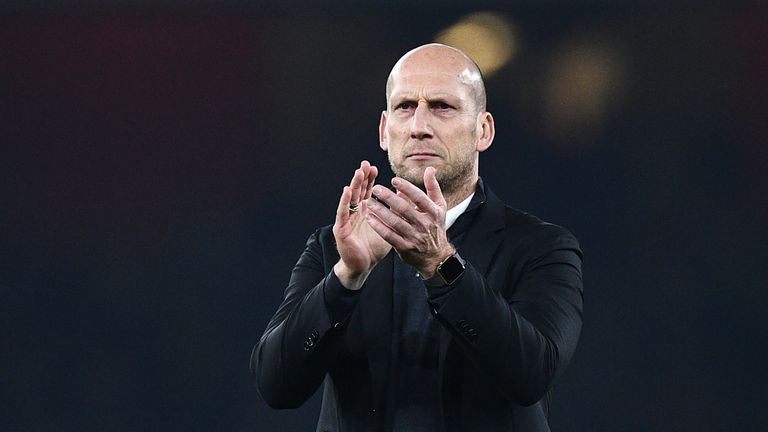 Jaap Stam admits Reading's success this season has come as a surprise to him and says "finishing 10th would have been an achievement".
Stam's side are about to embark on the play-offs, having finished third in the Championship table.
Potentially, the Berkshire club are three matches away from returning to the Premier League, with the first of these games against Fulham at Craven Cottage on Saturday, live on Sky Sports 2.
Stam, the former Manchester United defender, said: "Throughout the season you notice how players are getting better, and that you can make that extra step to get higher in the table.
"Being 10th would have been a good achievement from the team already. Ending up third in the league is a great achievement.
"But you still see progress with a lot of players in the squad and as a group they are learning a lot. We still need to do that.
"From this season, going into the play-offs, it's a new experience and we can learn from this as well."
Being 10th would have been a good achievement but ending up third in the league is a great achievement.
Jaap Stam
And how does contesting two-legged ties affect a team's mental approach? Stam added: "You have to have a different mindset because when you go into a league game, you can be more open than these games.
"The players need to know that we need to do it in two games. The choices in the two games they'll need to make means they have to be disciplined.
"If you play in a semi-final, you can reach the final and basically it's the same. The rules are not like European rules [away-goals] but you need to think like that.
"The first game you play away from home, people are saying you need to not concede too many and get a good result and then finish it off at home.
"It doesn't always work like that because still you are playing against a very good side and it's not a guarantee that at home you can finish it off.
"Players need to have a certain approach in these two games."
Grab a Sky Sports Month Pass for £25pm for two months and capture an unmissable summer of sport on NOW TV. More live football than ever before, the British & Irish Lions tour and much, much more…