Reading striker Jason Roberts says Kick It Out campaign needs better funding
Reading striker Jason Roberts wants the Kick It Out campaign tackling racism in football to have better funding.
Last Updated: 24/10/12 12:21pm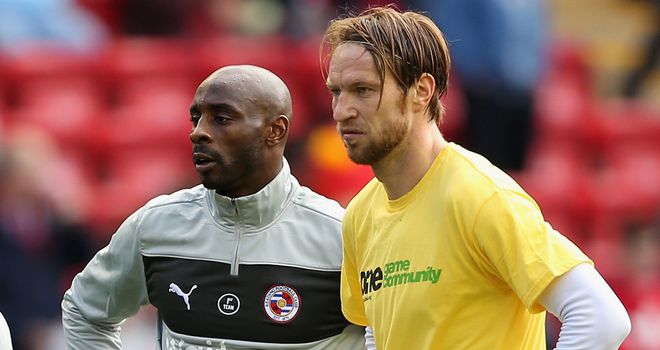 The Reading striker was one of a number of leading players, including Rio Ferdinand and Joleon Lescott, who refused to wear Kick It Out t-shirts last weekend.
The 34-year-old's stance drew criticism from Sir Alex Ferguson beforehand, but Roberts also claims that the Professional Footballers' Association knew that there may be some kind of protest in advance.
Roberts is one of a number of voices who have aired their concerns over racism in football in the light of the John Terry case and the abuse aimed at Danny Rose while on England Under 21 duty in Serbia last week.
"They (the PFA) were told that Saturday's protest might happen, and that this situation could occur," Roberts told the Daily Mail.
"Myself and a group of other players have been in detailed discussions with the PFA for some time.
"We suggested to them all along that this week could be an issue, because people didn't want to wear the T-shirt.
"Kick It Out has done some substantial things, but as an organisation it is not seriously funded, and it should be.
"The equality department in the PFA needs to change and should have stronger leadership and more than just one or two staff. It doesn't have the resources or the manpower to tackle the job.
"These are the issues that I felt needed to be raised. Detailed discussions and recommendations have been tabled for a year now, across several meetings, without any progress being made."
Roberts acknowledges that progress over tackling racism has been made, but feels that the authorities must get to grips with current issues.
"I speak to players who are exasperated by the suggestion that the fight against racism has been won, simply because bananas no longer get thrown and monkey noises aren't made," he adds.
"The last generation might have suffered from monkey chants, but we have to move it forward from just being happy that we no longer get that."