Tottenham defender Steven Caulker insists there is no unrest amongst the players
Steven Caulker has rubbished suggestions that there is dressing room unrest at Tottenham Hotspur.
Last Updated: 01/10/12 11:21am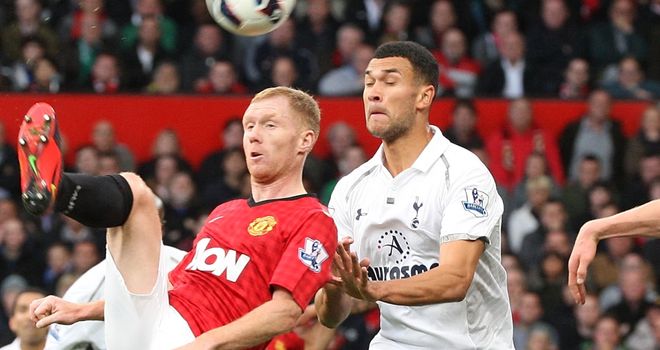 Ahead of their historic 3-2 win at Manchester United on Saturday, reports had continued about supposed unrest in the Spurs dressing room amid claims some players were unhappy with Andre Villas-Boas.
But Caulker, who has been brought into the first-team fold by the Portuguese tactician, insists there are no issues.
"That's nonsense," said Caulker. "There is a great team bonding there. Everyone is coming together.
"You could see from the celebrations at the end of the game, there is a positive atmosphere in the group. We are all very much behind the manager.
"These are the times when you have to stand strong and show your character and I think the boys did that fantastically well. We had to put our bodies on the line - [William] Gallas ran into the post, Brad [Friedel] made a few saves - everyone came together well and defended as a team.
"We've got a new manager, with new ideas, and he has brought in a lot of youngsters. They have been training with us and a lot of them were on the bench. So it is all positive from our point of view and hopefully we can push on from here."
Historic
Caulker was not born the last time Spurs won at Old Trafford over 20 years ago and ends a 26 game run that has seen Tottenham fail to beat United - home and away.
"It's more than my lifetime since they last won here," added Caulker.
"I was born in late 1991 so I wasn't even around when Spurs won in 1989.
"There have been times over the years when they have been ahead but still not managed to get the win. It's fantastic to be part of the team that ends that record and makes a bit of history for the club.
"That's four wins out of four now, including the cup competitions, and that underlines that this is a squad that can go places."