Clint Dempsey says Tottenham season will be failure if they fail to make top four
Clint Dempsey believes Tottenham's season will be considered a failure if they do not qualify for the Champions League.
Last Updated: 12/04/13 1:57pm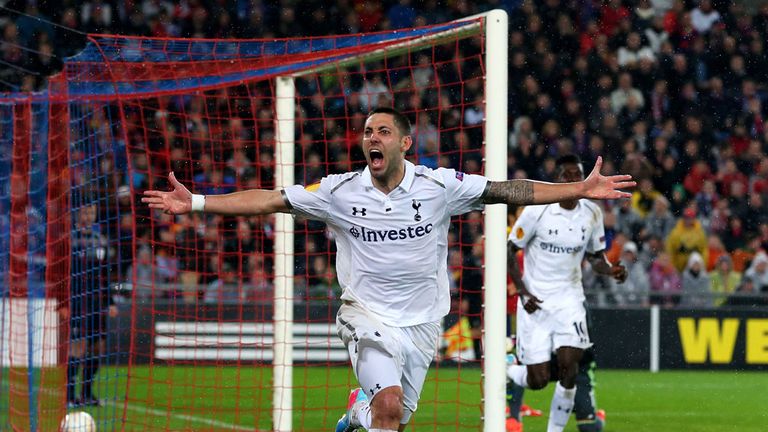 Dempsey's brace could not keep Spurs in the Europa League on Thursday night, as defeat on penalties after a 2-2 draw to Basel ensured Andre Villas-Boas' side would not win a trophy this season.
And while Spurs currently sit fourth between Chelsea and Arsenal in the Premier League table, they will drop to fifth if Arsenal win their game in hand against Norwich on Saturday.
Dempsey said: "We're frustrated we're not in this competition any more, but we have to regroup and we have to focus on the league.
"We have to make sure we finish in fourth place and make sure we're in the Champions League next year.
"That's the only thing we can do to salvage this season and say we had a good year. That's been the goal for the season.
"It's important that we get into the Champions League."
Spurs will have a 10-day break until their next game against Manchester City - when Villas-Boas expects Gareth Bale, Aaron Lennon and Jermain Defoe to be fit again - and Dempsey believes the rest will benefit his team.
"The break will help, because the more players you have fit, the more competition there is for spots," he added.
"You need that push towards the end because it's going to be difficult.
"We've got some difficult games. We've got Chelsea, we've got Man City, so we're going to need everyone fit and fighting to try to push for that Champions League.
"It's not going to be given to you. You have to fight until the end and we're still in with a shout to make that happen.
"I think it's going to come down to the last game."