Andre Villas-Boas plays down Tottenham's Premier League title chances
Andre Villas-Boas has told Sky Sports News he doubts Tottenham are ready to win the Premier League.
Last Updated: 11/09/13 6:09pm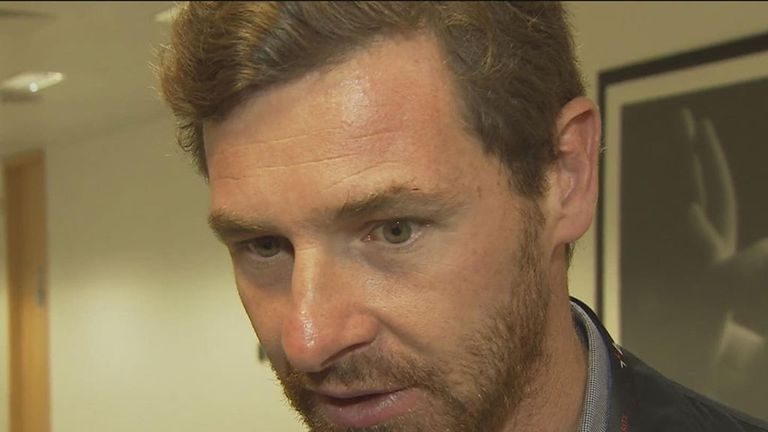 The Tottenham head coach, who was speaking at a charity event, has said he is pleased with the players he has brought in but says it is too early to describe his new-look side as genuine title contenders.
Spurs were busy in the summer transfer window, signing seven players for a total outlay approaching £105m - while selling talisman Gareth Bale to Real Madrid for a world record £86m - but Villas-Boas insists there can be no guarantee of instant success.
"The circumstances are difficult," he said. "The investment that we have made raises expectations in people but what we have to do is create a team that bonds together.
"That takes time and we see that our opponents are one step ahead as they have players who have been together for many years; that is an advantage that we don't have.
"I think we have invested a lot in young players that have real potential. Obviously we will have to work with them to make sure they develop into the world stars that we think they can become.
"All of them have great ambition to succeed and win titles which is one of the criteria that we wanted. Now it is about creating a team that bonds together and assumes the responsibility of winning those titles. This is what we have now and hopefully we can get a good response.
"I'm happy with the start we have made, but losing to Arsenal is never easy for any Spurs fan so now we have to make sure we bounce back.
"Whatever result we had against Arsenal that would not affect how we approach our next game against Norwich. We have to concentrate on winning that one.
"It has been a good international break for us. We have not had any injuries so we are looking forward to getting back into action this weekend."