Premier League: Roberto Soldado believes Tottenham are continuing to move forward
Roberto Soldado believes Tottenham are continuing to move forward after his late penalty beat Hull City.
Last Updated: 28/10/13 10:19pm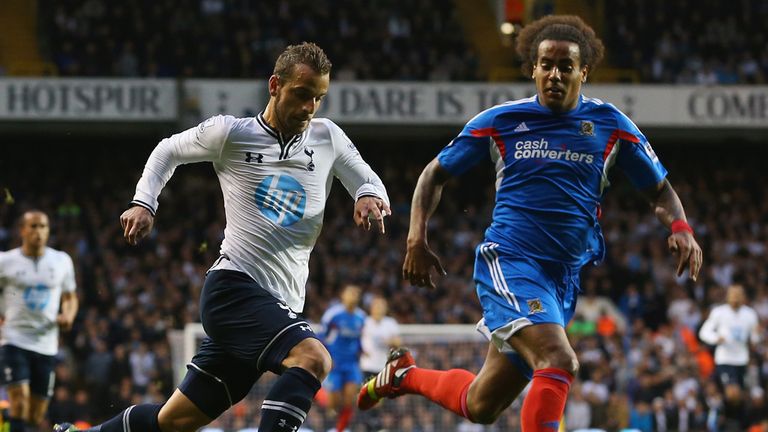 The Spain international converted his third penalty of the season with just 10 minutes remaining at White Hart Lane to take Spurs back into the top four.
The striker believed it was important to win and hailed another clean sheet for the team - the third on the bounce since the 3-0 home defeat to West Ham.
He said: "We're doing well at the moment.
"We had to keep up with the teams who won on Saturday and Chelsea won as well, so we had to keep up with them.
"Apart from the blip against West Ham, I think we've done very well at the back recently to not have any goals scored against us and I think we've done well, we've won our game and we're moving forward."
Great finisher
Manager Andre Villas-Boas was pleased with how his summer signing kept his head to net the spot-kick amid 'anxiety' in the ground.
The Spurs boss believes the home crowd did not help his men to victory, likening the atmosphere to playing an away game.
He told Sky Sports: "He's (Soldado) a great finisher, so cool. Particularly at that time with the levels of anxiety present in the ground.
"We could have perfectly had a result like this against West Ham and our position in the league would be first so sometimes it's difficult. I think we kept the ball on the ground and tried to play, tried to break in behind.
"We need people to be patient and support the players and give them the extra energy to go through and not the negative energy."
He added: "I compliment the boys for what they did - great work rate. Not only that but we played away from home. We didn't have the support that we should have had in a game that we needed a win.
"There was much anxiety present in the fans which transmitted to the players, so this victory is down to the players. We did it with no help today."