Tottenham head coach Tim Sherwood admits good fortune over penalty call
Tottenham head coach Tim Sherwood admitted they were fortunate not to concede a penalty to in their win at Old Trafford
Last Updated: 02/01/14 11:16am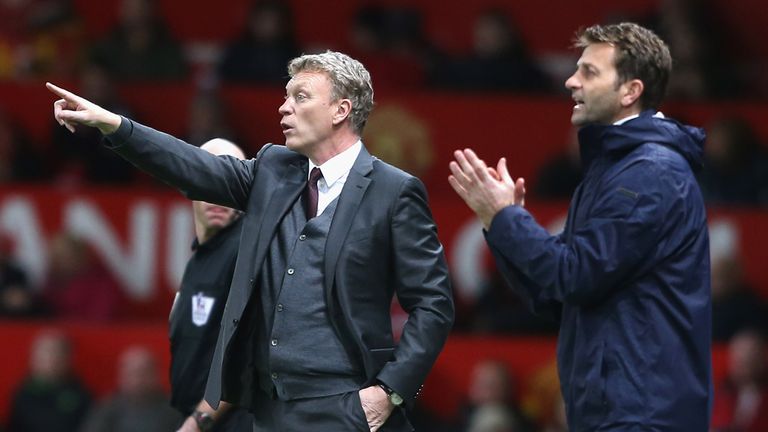 Manchester United boss Daid Moyes was left seething by referee Howard Webb feeling his side were denied a late spot-kick after Ashley Young appeared to be cleaned out by Tottenham keeper Hugo Lloris.
Moyes described the decision by Webb to ignore United's appeals for a penalty for the incident as "scandalous".
"It was scandalous, a scandal" said the United boss. "If you follow through on a player anywhere else on the pitch with your foot high, it would be a sending-off and a red card. You couldn't do that anywhere else.
"The goalkeeper comes out, Ashley Young gets the ball before him and he follows through.
"It's an incredible decision which didn't go our way, in fact probably the one of the worst I think I saw."
Sherwood conceded a penalty could have been easily awarded for the offence involving Young.
"I haven't seen it back but at the time I thought it was a penalty."
"It's one of them that could go either way but if we have got away that one I'm pleased because I remember coming here with Harry (Redknapp). We were 2-0 up at half time and (Heurelho) Gomes made a save, he quite clearly played the ball first but they got a penalty.
"They even themselves out."
Sherwood also singled out Emmanuel Adebayor for special praise following his performance in the win over United.
Adebayor set Spurs on their way to victory with the opening goals and Sherwood described the Togo man as "almost unstoppable" and hailed him as one of the best strikers in the Premier League.
"We know he is one of best in league and when he performs as he is at the moment he's almost unstoppable," added Sherwood.
"I have no reason to believe he won't keep it going.
"He's massively important to us. He seems happy in himself and wants to play every minute.
"I am amazed (how quickly he has reintegrated) because he's not had too much of a pre-season either."
Adebayor was stretchered off in the second half, making him a doubt for this weekend's FA Cup clash against his former club Arsenal and Sherwood is waiting to find out the full extent of his injury
"It's always a danger you're going to break down and I hope he's not too badly injured," continued Sherwood.
"He's got ice on every part of his body so we're not sure which (part) is hurting him more."
"We'll have to assess him."