Tottenham manager Tim Sherwood remains unhappy with Jorge Jesus of Benfica
Tottenham manager Tim Sherwood says he has "no respect" for his Benfica counterpart Jorge Jesus.
Last Updated: 20/03/14 5:01pm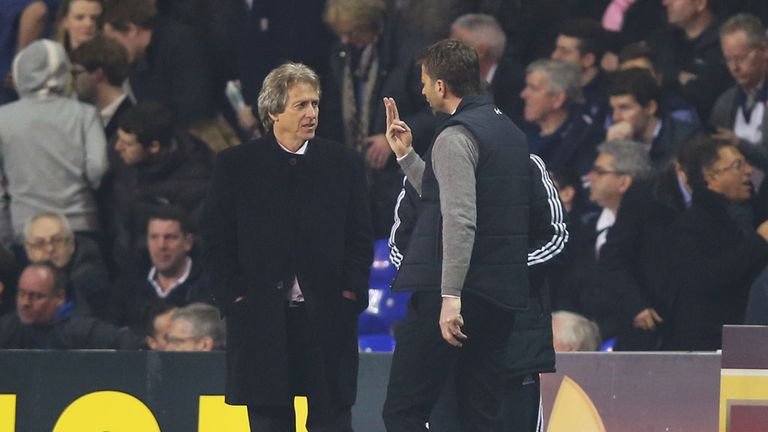 Sherwood and Jesus were involved in an altercation during the first leg of the Europa League tie between the clubs last week at White Hart Lane, which Benfica won 3-1.
Jesus celebrated Benfica's third goal exuberantly and angered Sherwood by apparently waving three fingers in his direction.
The duo did not shake hands at the end of the match but they will meet again on Thursday, when Benfica host Spurs in the second-leg of the tie.
Sherwood remains unhappy with Jesus and said: "I know exactly where he was coming from and I know what I saw.
"I have got no respect for the man. I've got respect for the football club and I've got respect for his players.
"The club is a huge club and we've had a lot of emails from Benfica fans apologising for their manager's behaviour. At the end of the day, I will shake his hand, because they are a giant of a club."
Jesus said he hopes himself and Sherwood can put the incident behind them.
"We won't run away from the question, it happened," he said. "It is normal, as the benches were close together.
"A lot of coaches in England have similar problems and I did not disrespect the coach.
"Other coaches have had similar problems like (Sir Alex) Ferguson, (Roberto) Mancini and (Manuel) Pellegrini. It is normal because the benches are too close together.
"What is important here is that we're not going to start trying to get in more problems. It is water under the bridge.
"We had a good game in London and we want to do another one here."
Injuries mount up for Spurs
Tottenham clearly have it all to do if they are to advance and Sherwood revealed that they are short of numbers due to injury.
"We are struggling," he said on Wednesday. "We have a lot of injuries, unfortunately.
"We are going to have to leave a lot of bodies behind and go with a few kids.
"(Emmanuel) Adebayor will be missing, as he has a hamstring problem.
"Younes Kaboul had the fitness test before the game at Arsenal and he just managed to crawl over the line, so he won't be fit. So that's two very important players for us.
"Jan Vertonghen is obviously suspended so, in the centre-back area, we need to conjure up something.
"Paulinho is going to be struggling, he has pulled out of training this morning with a calf problem. We are going to assess it tomorrow."