Dunne - Let's stick together
Richard Dunne has called on Aston Villa's supporters to unite behind the team and not protest against manager Alex McLeish on Sunday.
Last Updated: 05/05/12 1:34pm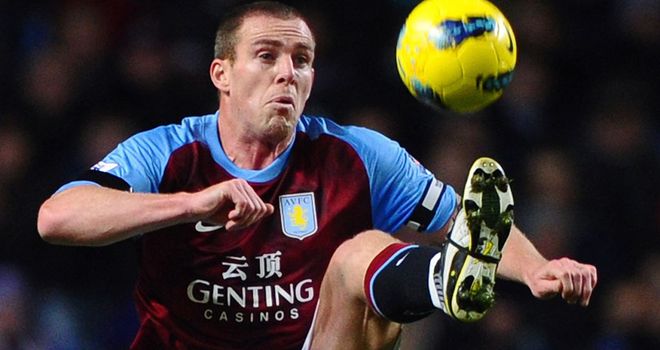 Richard Dunne has called on Aston Villa's supporters to unite behind the team and not protest against manager Alex McLeish on Sunday.
Villa have slipped dangerously close to the relegation zone with just two games of the season remaining and face Tottenham in a crucial clash this weekend.
It is Villa's final home game of the campaign and some fans are planning to voice their views with 'McLeish Out' protests.
A section of Villa fans also took out a small back page advert in Saturday's Birmingham Mail.
The advert funded by website run by Villa fans stated: "We were really hoping never to say this but....WE TOLD YOU SO. 'Bright Future?"'
There was no direct mention in the advert of McLeish but some sections of supporters called for him to be sacked during and after the home defeat against Bolton 11 days ago.
However, despite this, Dunne hopes the Villa Park faithful will throw their support behind the team.
"The fans want success and it's very difficult for everybody to understand why we're down there," Dunne told the Birmingham Mail.
"The situation has evolved over the season, which has caused the problems, and we need the fans.
"Everybody understands the frustrations, they're not happy with us as players and the management and the club as a whole.
"But we need the supporters because they want to watch Premier League football next season. The best thing they can do is support us and whatever happens, happens after that.
"We just need the fans to stick with us. We know ourselves it's not been good enough at times, but the effort is always there.
"For the last three weeks we need to pull in the same direction, we don't want anyone to think we're not doing our best.
"We want everyone to support us so that we can get out of this together."
Sorting it out
Dunne, who returned to action in last weekend's goalless derby game against West Brom following a two-month lay-off, says the squad know their Premier League fate is in their own hands and are not even considering relegation.
"You don't want (relegation) to even be in our thoughts," Dunne said.
"Our thoughts are to go and beat Spurs and then go and beat Norwich.
"It's not been a great season for us but we are where we are and we are sorting it out, then we can start again fresh next season.
"At this stage of my career I want to play in the Premier League, but if the club was to go down things change everywhere.
"If you look elsewhere with clubs who have gone down over the years there have been changes.
"Other clubs in the relegation battle are relying on other things and 'what ifs' but for us it is not.
"We win the games and we're in the Premier League next season."
Lap of honour
Despite the threat of protests calling for his departure, McLeish believes his side will still do a lap of honour after the game on Sunday to show their appreciation to the supporters.
"I would like to think the players will thank the fans for their support regardless (of the protests) so that should be a given," McLeish said.
"I don't think we're contemplating not taking points over the last two games.
"We've got to concentrate and focus on these last two games. That's certainly what I'm doing right now."