Christian Benteke is key to Aston Villa's survival hopes, says Martin Laursen
Christian Benteke is a better fit for Paul Lambert's Aston Villa side than Darren Bent, says Martin Laursen.
Last Updated: 28/11/12 9:36am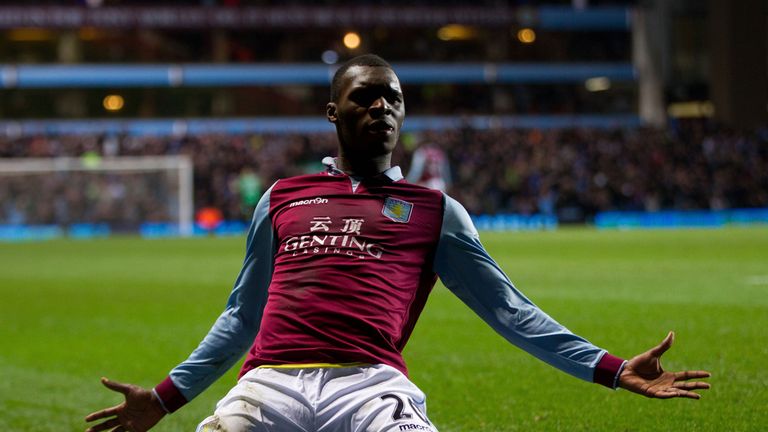 The Belgium international headed in his fifth goal of the season in all competitions with just 10 minutes remaining to snatch three points for Villa in their bottom-of-the-table battle with the visiting Royals.
And former Villa defender Laursen said the 21-year-old's all-round contribution to the team is vital
"Benteke is so important for Villa's game," Laursen told Sky Sports.
"He works hard, wins his headers and keeps the line high. At every throw-in, free-kick and corner he's there for Villa. He's extremely important for their game.
"They would like to sell Darren Bent, though. He's on big wages but he's not playing at the moment. He's done well and he'd probably do well in another team, so if they can't use him here they could save a lot of money and perhaps buy another player who works better for them."
Jamie Redknapp agreed Benteke is a better fit for Villa and says he brings more to the team than Bent.
"At the moment Lambert is looking at a team that's working hard for each other and he doesn't want someone that's going to stand up there and only come alive when the ball comes into the box in his side. There's more to the game than that," Redknapp said.
"If you look at Benteke and Darren Bent, they're completely different. Benteke is always looking to get hold of the ball and bring other people in. He's a team player and that is what has given him the nod ahead of Darren Bent at the moment.
"Before the game I said they're crying out for a hero at Villa, someone to pin their hopes on. Well they've found one in Benteke. He's 21 years of age, he leads the line extremely well and he got the all-important goal.
"He adds a lot of quality, a lot of strength and Reading struggled to handle him all night. He was the difference between the sides, in my opinion. He was the best player on the pitch.
"He had opportunities before the goal to put Villa ahead and it hadn't quite happened for him but he got up early for the header and his power earned him the goal. There was a battle all game between him and Morrison but Benteke came out the winner in the end."
Important win
After earning a point at home to Arsenal on Saturday it was important for Villa to take all three points against Reading, with a trip to fellow strugglers QPR next up for Paul Lambert's men, says Laursen.
"That was a very important win," he said.
"They played a good game on Saturday, got a point against Arsenal and now they have QPR next Saturday and then Stoke, so it was very important to get three points here at Villa Park.
"They haven't won many games at Villa Park but they kept a clean sheet again, like they did against Arsenal, and that is also very important for the young ones at the back."