Aston Villa manager Paul Lambert confident players will be attracted to club
Paul Lambert does not believe the prospect of a relegation battle would put players off joining Aston Villa this month.
Last Updated: 01/01/13 2:19pm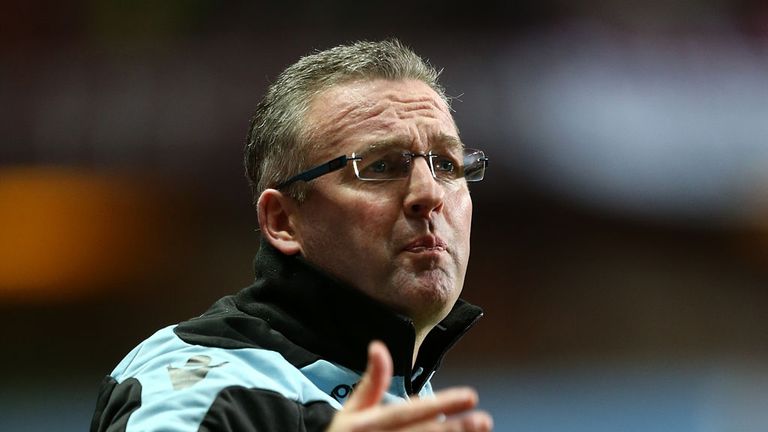 Villa enter the New Year only a single point above the drop zone after losing three successive games and conceding 15 goals in the process.
Owner Randy Lerner is ready to invest in the transfer window and Lambert is convinced Villa's stature as a 'huge club' means he will have no problems attracting new players.
"No, I don't because I think it is not just Aston Villa that are in a fight," he said.
"There are a right few others and in the second half of the season, as Roberto Martinez (Wigan manager) said, you have to have patience and don't panic.
"Can I sell the club and its young players to an experienced player? I don't see that is a problem. The football club on its own will attract that as well.
"It is pretty easy to sell the club, the stature it has got. You don't need to be Einstein to try to sell this club. It is a huge, huge club."
Lambert admits he is not a massive fan of the January transfer window as he says the accent is often on panic buying.
He explained: "I think any football manager always has an idea of what they want and try to do, but I think everybody says that January is an absolute nightmare of a month.
"People can panic, prices are inflated, people don't want to sell, so it is a tough one."
Lambert is under no imminent pressure for his own job, with Lerner aware rebuilding the squad is a long-term project, but he accepts it is a business driven by results.
He said: "Do I have the patience of the chairman? You would certainly like to think so. I can't influence anything like that.
"I can only work with what I have, and that is the same for any manager. You try to do your job the best you can.
"But I sense that there is a togetherness when I speak to him. As I said before, I have a good relationship with the chairman but football is a results business."