Newcastle manager Alan Pardew admits he wanted to sign Jermain Defoe from Tottenham
Newcastle United manager Alan Pardew admits that he did have an interest in Jermain Defoe this summer.
Last Updated: 09/11/13 1:22pm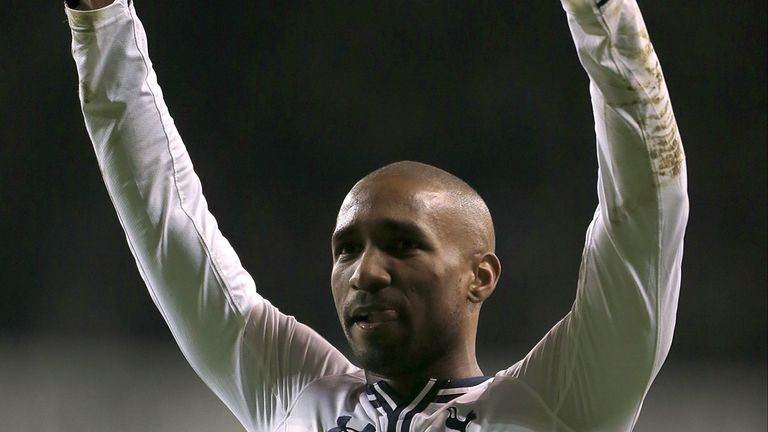 Defoe has struggled to force his way into Andre Villas-Boas' league plans, but he has scored nine goals when featuring in the Capital One Cup and Europa League.
The England striker is being tipped to start Sunday's clash with Newcastle at White Lane - which is live on Sky Sports.
"There was a little bit of interest from us (in the summer), but he is a Spurs player and I think he is doing a good job there," Pardew is quoted as saying by the Sun.
"Whenever he is called upon, he scores, so I would not be surprised if they start him on Sunday.
"I worked with Jermain at West Ham and think he is a fantastic player. When the ball comes into him, whether it is left foot, right foot, he is hugely effective.
"He's also good in the air for a fairly small fella. He's a terrific player, but really and truly I do not think he would come to this football club."
Tottenham come into the game with Newcastle off the back of another Europa League night, and Pardew admits that competition was too much for his squad to cope with last season.
"I think it is a difficult competition for Premier League clubs, and I've always said that," said Pardew.
"I do not think it is fair that in the modern game, with the physical demands there are, players are expected to be playing Thursday night and Sunday.
"It is tough, and tough on Spurs, but the advantage they have over us last year is numbers, quality numbers and experience as well.
"As a squad, they have a lot more experience of Europe than we had, and that goes for the staff as well. That gives them a slightly stronger hand. But hopefully it should help us, and I am not going to say that it doesn't.
"They've got so many players to choose from, and they certainly have the depth of squad to make them serious contenders for Europe.
"A Champions League position will be what they're targeting, and I think they have a very good chance of that.
"You're always going to miss someone who can produce goals out of nothing, like Bale did for Real Madrid in the week (against Juventus). But they've certainly used the money well in terms of making the group stronger, and I think he's (Villas-Boas) got a stronger group now.
"Defensively, they've probably been the best side in the Premier League this season, so they've got a lot going for them at the moment."