Transfer News: PSG boss Laurent Blanc confirms he wants new midfielder
Laurent Blanc wants to sign a new midfielder this month, and refused to rule out the prospect of landing Yohan Cabaye.
By Graeme Bailey - Tweet me: @graemebailey
Last Updated: 21/01/14 10:34am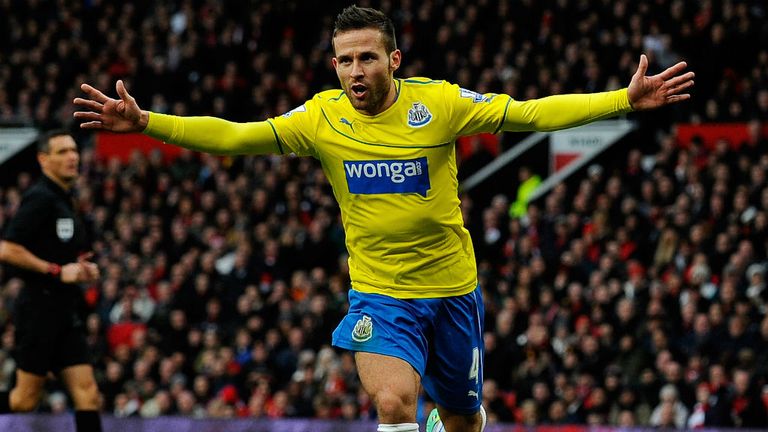 Blanc has never hidden his admiration for a player he handed an international debut to when France manager back in 2010.
Cabaye is enjoying an excellent run of form and Newcastle boss Alan Pardew admitted he was getting 'nervous' about the prospect of losing his French playmaker.
Newcastle have long insisted they would not be selling any of their top names, including Cabaye, this month - but with some reports claiming that PSG could pay over £20million for the 28-year-old, that may be too much for the Magpies to resist.
Now Blanc has confirmed that PSG want a new midfielder, with injury ruling out Adrien Rabiot, and Cabaye is the name being mentioned and the fact he is eligible to play in this season's Champions League makes him an even more enticing prospect.
"It would be good to recruit a player in the heart of the game, and have an extra player in midfield," Blanc told Canal+ following PSG's 5-0 win over Nantes on Sunday.
"We need a player who has the same mentality as the others when they are on playing or on the bench. He must love to play.
"He must be technically good and be tough, and whether this player comes or does not come, there will be competition in all positions.
"I've been saying for a month and a half and the injury Adrien makes it more urgent to have an extra player in midfield.
When asked specifically about Cabaye, he refused to comment on claims that a deal was close but said: "I ask myself. I know the man [Cabaye].
"He has that character, but there are others. We are very happy with this team but with all competitions in which we are engaged, we must be aware that there will be issues and we already see that with Adrien Rabiot."
From his perspective, Cabaye sees no reason why he could not be playing Champions League football with Newcastle next season.
With United seven points adrift of the all-important fourth-place currently occupied by Liverpool, Cabaye said: "We are in good shape."
Speaking to reporters, he added: "Champions League is a bigger level, but we have the capacity to just stay next to the big teams.
"If we are still in a similar position (to challenge for the top four) by the end of the season, why not?"
Insisting he is happy at Newcastle, Cabaye added: "For me the most important thing, as I said, is to do my best for the team.
"If the manager or the staff are happy with my performance and the fans who are supporting me are happy, I am happy.
"My mentality hasn't changed. Even after what happened in the summer - and I will do my best for the team every day."
With Newcastle already pursuing Montpellier playmaker Remy Cabella, reports in France claim his arrival could offset a possible departure of Cabaye although Sky Sports understand the two deals are not linked.
Newcastle are also continuing talks with Borussia Monchengladbach over striker Luuk de Jong - who they hope to conclude in the coming week.