Premier League: Man City rightful favourites, says Ed Chamberlin
But top flight is at its unpredictable best
Last Updated: 08/08/14 10:56am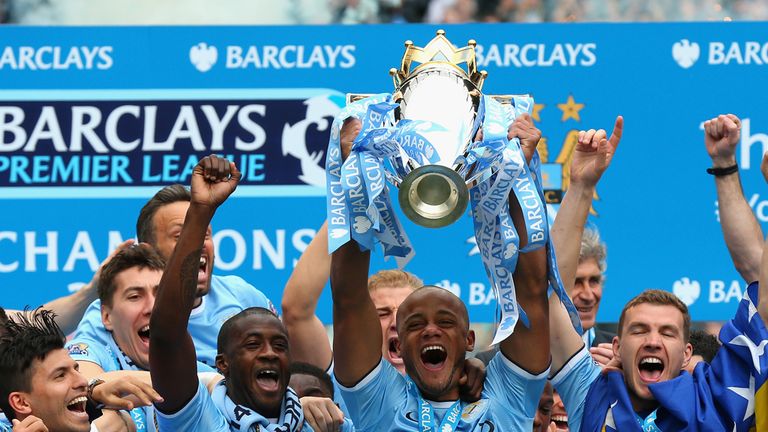 The 2014/15 Barclays Premier League season has some act to follow.
Last season was compelling from start to finish, there were 1,052 goals, drama galore and so many great memories, incidents and stories.
It seems an age since that memorable last day when I was on the pitch at the Etihad with a jubilant Vincent Kompany, before he was part of the group that hijacked Manuel Pellegrini from my interview and gave him the bumps. Both will be part of the Premier League launch which I will be hosting live on the new-look Sky Sports News HQ from 7am on Wednesday.
Like you, I'm sure, I can't wait for it all to start and I'm itching to get up to Newcastle for the first Super Sunday of the season. We will see the top four from last season all live on Sky Sports on the opening weekend.
Last season will take some beating but I'm expecting it to be even more competitive at the top this time around. The lead changed hands an incredible 25 times last term and it's not hard to see a similar scenario as Sky Bet have the top five teams all at 10/1 or less.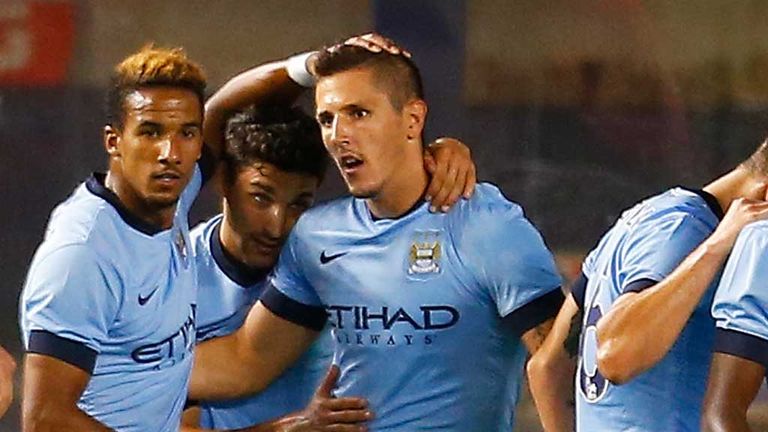 Vincent Kompany was hugely impressive in the interview after he lifted the trophy in May. The City skipper talked about winning the title merely being the start of a journey and how the club wanted to build, grow and create a dynasty. He had Graeme Souness nodding with approval.
No one can doubt Kompany's desire. However, as Graeme and Gary Neville will tell you, despite doing it numerous times themselves, retaining the League title is incredibly hard. Manuel Pellegrini did a terrific job uniting and harmonising the squad but can he now motivate them to do it all again? He got the players smiling again, can he get them winning again? Staying at the top is one of the hardest things in sport.
The uncertainty over Yaya Toure's future, the implications plus penalties from Financial Fair Play and the lack of new faces this summer has seen City drift out to second favourites at 2/1 with Sky Bet.
On paper, they remain the team to beat. As both my Monday Night Football colleagues frequently point out, the spine of Hart-Kompany-Yaya Toure-Sergio Aguero is the best in the league. By a distance.
Joe Hart's place is likely to come under pressure again this season with the arrival of Willy Caballero, while the injuries that have plagued Aguero over the last two seasons and at the World Cup have to be a concern. David Silva looks certain to star again, while Stevan Jovetic has looked sharp in pre-season and ready to make up for lost time. If he stays at the club, I will be backing Jovetic at 8/1 to be Manchester City's top scorer this season (Sergio Aguero is 4/5).
After what happened in the season after they last won the League, people are bound to question Manchester City's hunger. We will learn a lot from their first fixture of the season. Newcastle away, live on Super Sunday. Their hosts could be resurgent after a successful summer in the transfer market, which has brought back some optimism in the North East and this is just the type of fixture where City struggled early on last season.
If the champions' desire to retain the Premier League rolls on from their imperious finish to the last campaign, then they should be firm favourites to win it again.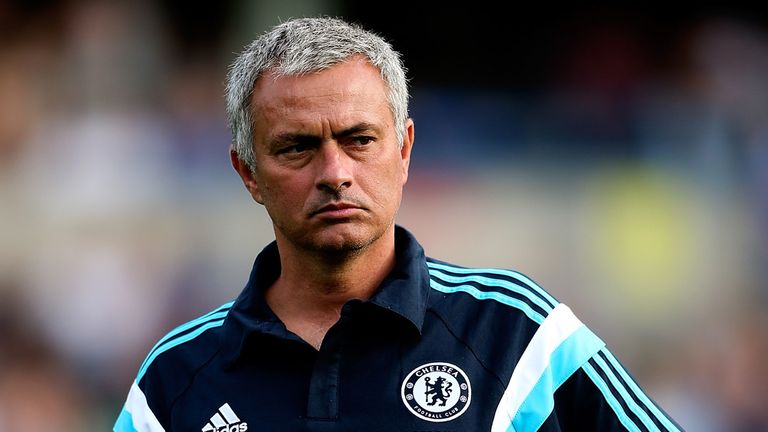 Chelsea have been all the rage with the punters and it's easy to see why. That was not a 'Jose Mourinho team' last season, especially before Christmas. After throwing it away at Stoke in December, Jose clearly had had enough and decided to shut up shop and resign himself to laying the foundations for a title assault this season. He did so quite brilliantly.
The defence became rock solid and ended with a Premier League high 18 clean sheets. Two of Europe's finest, Thibaut Courtois and Filipe Luis, have been added to that impressive unit. Gary Cahill is a must for every team in the Sky Sports Fantasy Football League. With Cesar Azpilicueta free to move back to his natural position of right back it will be interesting to see what happens to Branislav Ivanovic, who I thought was an unsung hero last season.
Mourinho stopped the team conceding goals and even went close to winning the league despite not having a regular goal scorer. That has been addressed with the arrival of Diego Costa and the morale-boosting return of Didier Drogba, which is a masterstroke as it eclipses the departure of fans' favourites Frank Lampard and Ashley Cole. Cesc Fabregas is an inspired signing and is another clever piece added to the Mourinho jigsaw.
Jose laid the foundations last season and now has a team in the Mourinho mould.This is one powerful unit. They won't concede many goals and they will be dynamite at set pieces. They will grind out results when required. My one concern is what Roman Abramovich will make of it all.
We know that Jose's the master at winning big games. That could be crucial this season. Their win at Manchester City was one of the performances of the season, while they did a proper job on Liverpool in April.
We will get a first look at Chelsea on the opening Monday Night Football at Burnley. All Jose's pieces are now in place for Chelsea to be serious title challengers.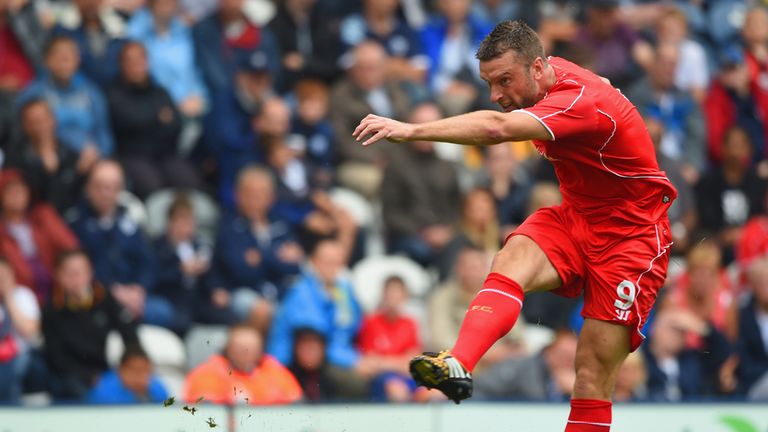 Liverpool fans must be sick to death of people questioning how they will cope without Luis Suarez.
How will they replace his 31 Premier League goals? Comparisons with Tottenham and the loss of Gareth Bale are inevitable. Like Spurs, they have re-spent the money on a number of players, which is bound to get the critics sharpening their knives. However, the difference is that most of the new signings have Premier League experience.
We will see them for the first time in the first game on Super Sunday, which is the delicious prospect of Liverpool v Southampton. The ex-Southampton contingent should hit the ground running. Dejan Lovren is a classy defender and should take the step up in his stride, while Adam Lallana is desperately unlucky to miss the start but has the mentality and talent to be a star at Anfield.
You sense a turning point for Brendan Rogers was when he looked round at his bench when they were trailing in that all-important clash with Chelsea at Anfield and saw how few options he had. Ricky Lambert will offer him something completely different and Rogers should have much more flexibility this time.
He will need it because this is going to be a much more demanding season. The challenge of the Champions League, along with the departure of Suarez, is why Liverpool are double figures to win the League and the outsiders of the 'big five' to finish in the top four.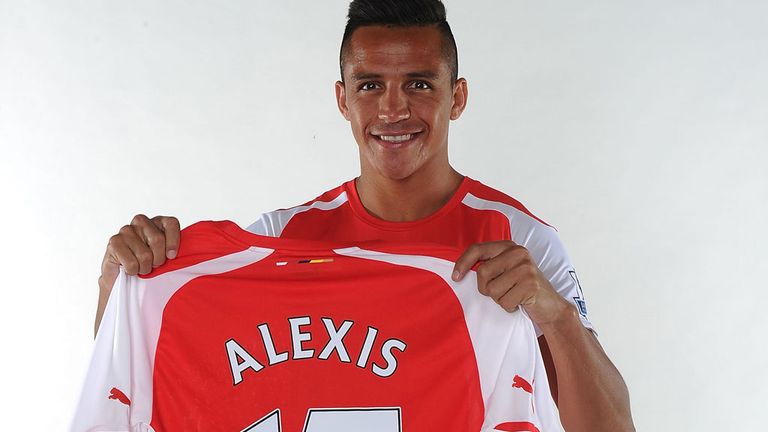 If only Arsenal could match Chelsea's habit of getting results in big matches. Arsenal were top of the league for 128 days last season yet ended it in a scrap with Everton to finish in the top four. Injuries to Aaron Ramsey and Theo Walcott were damaging but it was the thrashings at Chelsea, Manchester City and Liverpool that proved fatal to Arsenal's title challenge.
This season's campaign begins - live on the first Saturday Night Football of the new term - at home to Crystal Palace. Arsenal fans seem full of hope again but the reason they are still 13/2 to win the title, and not challenging Chelsea and Man City at the head of the market, is their inability to win key matches. It's been a big problem for a number of seasons now. They are masters at dismissing lesser sides but too regularly and predictably come unstuck against the big boys.
Pre-season has been mixed. While the Gunners were brilliant against Benfica in the Emirates Cup, old fallibilities returned the following day as Monaco over-ran them in midfield. The missing ingredient is power. They need some of the midfield dynamism that Nemanja Matic gives Chelsea and Yaya Toure provides in spades for City.
The Premier League is a better place with a strong, competitive Arsenal side. The signs are that Arsene Wenger and his team are ready to give it a real go. Alongside Cesc Fabregas, Alexis Sanchez is the signing of the summer. With Theo Walcott cutting in from the right and Alexis from the left: good luck defences!
I also hope the new £35m man gets to play through the middle as his pace will bring out the best in Mesut Ozil. He will thrive having pace in front of him and those darting runs to pick out. A more static target-man like Olivier Giroud does not suit Ozil's style and he could look a completely different player this season, especially with a World Cup winner's medal to boost his confidence.
Arsenal needed more pace. That's been addressed and they have ticked that box. Now they need to add power and find the key to winning those all-important big matches. Then Arsenal will be the real deal.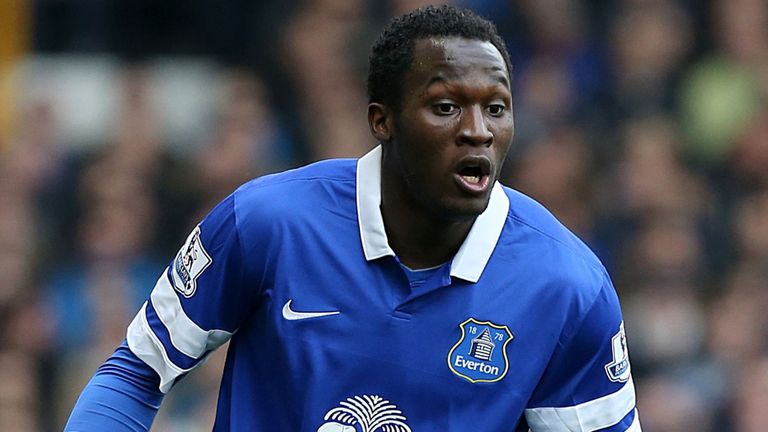 With Roberto Martinez at the helm, Everton are guaranteed another good season. They've had a decent summer, securing the service of the key men from last season, Gareth Barry, Ross Barkley and Romelu Lukaku. John Stones is England's most promising young defender, while Tim Howard will feel ten feet tall after a magnificent World Cup, which was followed by appearances on America's top chat shows. With the game booming in the States, Howard is now a huge star.
Everton have two big problems. 1: The dreaded Europa League and the rigours that entails. 2: The top five, let alone the top four, look harder to break into than ever.
Spurs have the same problem. They could have an excellent season and finish sixth. Will the hierarchy settle for that?
Mauricio Pochettino already seems to have brought some stability to White Hart Lane. We will learn a lot more about him this season as he addresses the media in English. He has a great sense of humour and the Southampton players loved him.
If Pochettino can bring out the best in Roberto Soldado and Erik Lamela then he will be in business. Early signs are encouraging. Soldado has looked very sharp as he tries to forget a nightmare first year in North London, which yielded only six goals (four of those from the penalty spot) following his £26m move from Valencia. Pochettino is sure to fill him with confidence and if he can get him firing, Soldado could be a big price at 40/1 to be the League's top goalscorer this time around.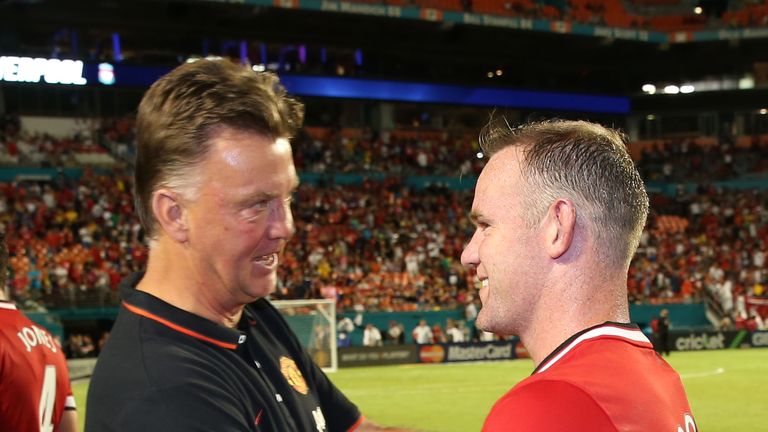 As office workers around the country will know, United fans have got their mojo back. And rightly so because, although it's early days, Louis van Gaal and Manchester United look an excellent match. The excitement has returned.
United provide the x-factor for the new season. We will see them three times on Super Sunday in the first five weeks of the season. No one knows quite what to expect. Pundits seem to be predicting everything from them winning the League to finishing fifth. Mind you, that is what the Premier League is all about. Its unpredictability is such a big part of its popularity.
One thing you CAN predict is that having no involvement in Europe is a massive factor in United's favour for their Premier League campaign. Just look at how it helped Liverpool in the second half of last season. Van Gaal will relish plotting for their fixtures and stirring the pot while his rivals are embroiled in the Champions League.
However, having a bet or strong opinion on the title is fraught with danger in early August. The picture could look so different by the end of the month. For example, if Van Gaal signs Mats Hummels and Arturo Vidal it could be bingo time for United. Anyone who read my World Cup preview and views on Chile will know just how good I think Vidal is. What a combination he and Ander Herrera could be.
The speed with which Herrera moves the ball, means he has so far looked every inch a United player. Further forward, Juan Mata drifting in central areas behind Robin van Persie and Wayne Rooney could be dynamite.
As we wait to see who will be captain, leadership on the field is a worry. Rio Ferdinand and Nemanja Vidic had such a presence, while Patrice Evra's importance in the dressing room should not be under-estimated. Van Gaal will certainly lead from the front but it's anyone's guess how his team will fare. The one thing you can guarantee is that it's going to be an entertaining ride - on and off the pitch - as we find out.
The chasers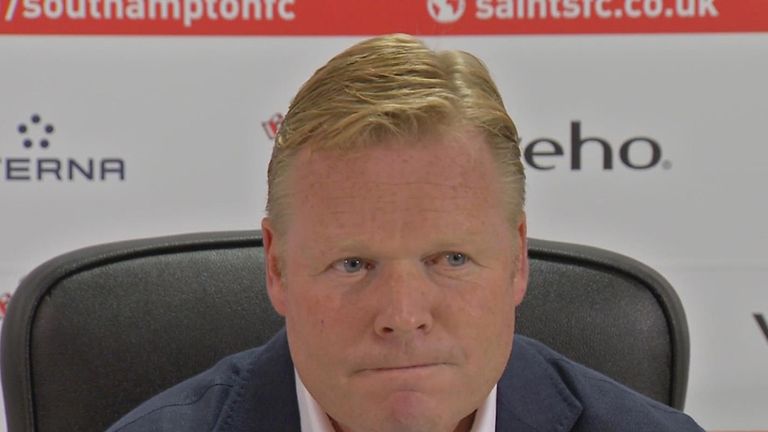 In the rest of the League, questions abound. How will Ronald Koeman get on after the heart of the Southampton team was ripped out in the summer? The Saints are only 9/2 for relegation now but I reckon they will do better than most people think. It usually pays to go against the crowd and I'd rather back Southampton at 6/4 for another top half finish. Feedback from training under Koeman has been excellent and there's still plenty of talent at St Mary's. Fraser Forster would be a superb signing in Southampton's 'trouble' position in recent seasons, while Harrison Reed is a name to look out for over the next few months. Dusan Tadic has also made a highly encouraging start.
How will sides like Sunderland, Stoke and others who've shown ambition and made a host of exciting signings fare? Are Newcastle on their way back? Can Big Sam galvanise West Ham? How will the three new boys get on?
These are all ingredients for what's going to be another thrilling Premier League season. Roll on next weekend.