Kevin De Bruyne flattered by high praise from Manchester City boss Pep Guardiola
By Michael Kelleher
Last Updated: 14/09/17 11:21am
Kevin De Bruyne was flattered after being hailed by Manchester City manager Pep Guardiola as one of the best players he has ever seen.
The Belgian playmaker delivered a passing masterclass as City began their Champions League campaign with an emphatic 4-0 away win over Feyenoord.
John Stones scored twice, while strikers Sergio Aguero and Gabriel Jesus were also on target, but it was De Bruyne who drew the highest praise from Guardiola after the match.
The Spaniard said: "Kevin is one of the best players I've ever seen in my life in terms of he can make absolutely everything.
"He's a top, top quality player. We are so proud and so happy he's with us."
Given Guardiola has coached Lionel Messi, Xavi and Andres Iniesta, that is high praise indeed but De Bruyne thinks his coach may be attempting to motivate him to keep up the fine form he has showed so far this season.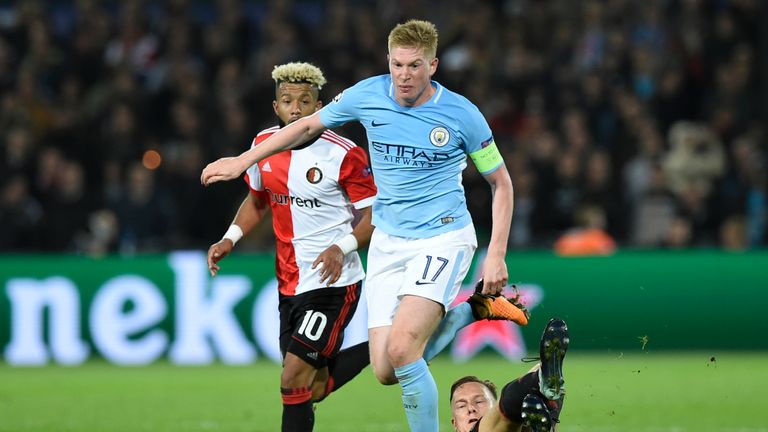 "Obviously that is a big honour, when somebody talks about you - especially your own coach who trained a lot of unbelievable players," De Bruyne said.
"I think in one way it is maybe a way to keep me under pressure to try to play at a level that I'm trying to keep but it gives me good pleasure the way we are playing as a team and it makes me also better."
De Bruyne has established himself as City's chief creative force since joining from Wolfsburg in August 2015.
Last season he racked up an incredible 21 Premier League assists for City and Stones says his exceptional vision and pinpoint deliveries are much appreciated by his team-mates.
"He is massive. He has got a great delivery in the air and on the ground. I have said before he creates so many goals and chances," Stones said.
"Kevin is going to keep doing that throughout his career and it is great to play alongside him.
"He is up there with the best personally I think. Playing alongside him, we are all going to be biased because we see him day in and day out doing the same things as you see in the games.
"Kevin is such a down-to-earth kid that he will keep working hard and wanting to get better and I am sure he will."