Manchester City's Pablo Zabaleta fears Rafa Benitez will spark a reaction in Chelsea
Manchester City's Pablo Zabaleta is wary of a backlash from Chelsea after the arrival of new boss Rafa Benitez.
Last Updated: 23/11/12 9:02pm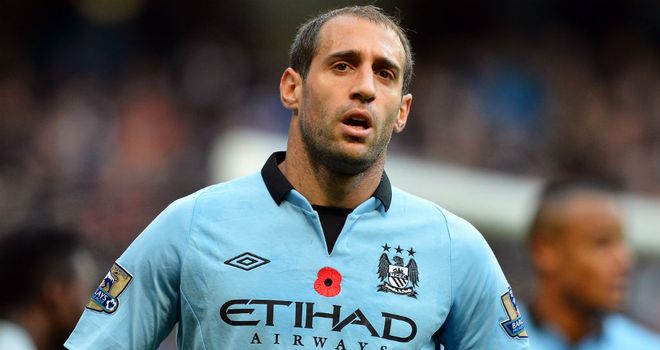 Chelsea have slipped to third in the Premier League table following a run of four games without a win, while the Blues are on the brink of elimination from the Champions League after Tuesday night's 3-0 defeat by Juventus.
But Zabaleta fears Benitez will spark a reaction from the out-of-form side after quickly replacing Roberto Di Matteo in the Stamford Bridge hotseat ahead of Sunday's top-of-the table clash.
"It's a difficult moment for them but they now have a new manager in Rafa Benitez," said the Argentinian.
"When they are in a moment like this, it might seem they are easier to play against, but a new manager can make old players fresh again.
"Benitez has experience in the Premier League so it will be a really tough game for us."
City are also trying to get back back on track after the 1-1 draw with Real Madrid spelled the end of their Champions League campaign, but Zabaleta is confident the players will put this disappointment behind them as they continue to defend their league crown.
"Once you finish a Champions League game you have to refocus your mind, and we have to now look at Chelsea," he said.
"It's a different situation in the Premier League - we are top and play the team that is third, so it is an important game for us."