Premier League: Manuel Pellegrini says all Manchester City strikers are 'important'
Manuel Pellegrini insists all his strikers are currently on an equal footing as he ponders his Manchester City attack.
Last Updated: 17/09/13 9:01am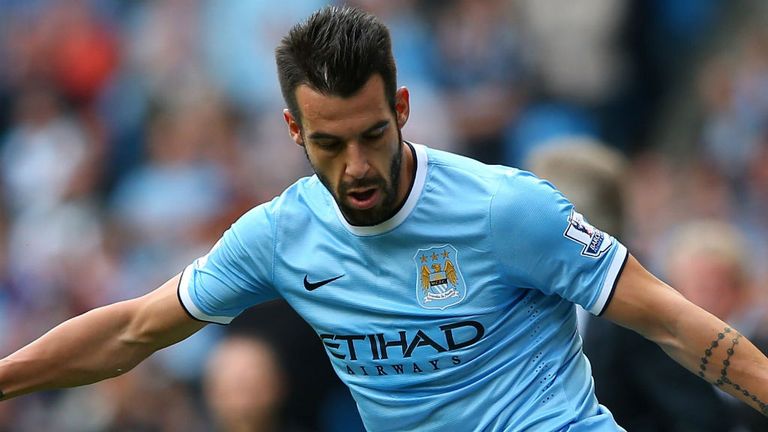 Pellegrini's men travel to Stoke in the Premier League this weekend, with new signings Alvaro Negredo and Stevan Jovetic competing with Sergio Aguero and Edin Dzeko for places up front.
Between them, the four players cost City £107million and Pellegrini has no firm idea of which pairings might be the most effective.
"No, I don't know exactly," he said. "We have four important players for that combination."
Dzeko has so far been the preferred option alongside Aguero, while Jovetic is still awaiting his debut.
Negredo's performances - he has scored when coming off the bench against Cardiff and Hull - could put him in line to replace Dzeko, but Pellegrini wants both players in good form with a tough spell of fixtures ahead.
Pellegrini said: "Alvaro Negredo is always a very important option, Edin Dzeko is exactly the same.
"They are different players but they are both very good players, so the important thing is how useful both are for the team.
"They have competition always for a place but they can play together also, so they are two important players for the team.
"We have to play seven games in 21 days, so the most important thing is not the 11 that start, but the performance of each player in every game.
"All the players we have, if they give a high performance, have the option to play."
Pellegrini briefly worked with Negredo during his short spell in charge of Real Madrid four years ago, and has been impressed with the £20million summer arrival from Sevilla.
He added: "I think that in every game he played he did very well.
"He has scored in all the matches so I hope we will see the best of Negredo, that I saw in Spain for the last seven, eight years.
"He was a very young player when I was at Real Madrid.
"He started there and after that, every year, he has been a very important striker in Spain. He will be here in England also."