Manchester City boss Manuel Pellegrini bemoans tiredness after win over Crystal Palace
Manchester City boss Manuel Pellegrini blamed tiredness for his side's below-par performance against Crystal Palace.
Last Updated: 30/12/13 10:21am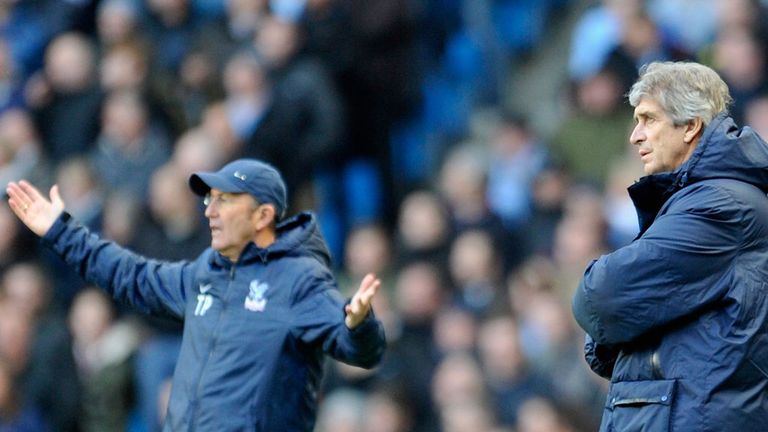 Pellegrini made six changes to his starting line-up as City laboured to victory over relegation-threatened Palace with Edin Dzeko scoring the all-important winning goal.
The Chilean insists he did not treat the game lightly by making so many changes and reiterated his disappointment at being forced to play two games in 48 hours after their Boxing Day victory over Liverpool.
City struggled to break down Palace for long periods of the game and Pellegrini admits he was frustrated by the away side's defensive tactics.
"Yes, of course I was very concerned," Pellegrini told Sky Sports. "Before the match I said when we finished against Liverpool, 48 hours it is impossible to recover for players.
"We didn't have our team fresh and it is very difficult when just one team want to play and the other just wants to defend so that was the game we saw today. That is not what we are used to do at the Etihad.
"We also had a lot of chances to score but I repeat it is very difficult to attack when the other team is with ten players in their own box. Maybe on some counter attacks and corners they had chances."
Pellegrini also played down fears over Joe Hart's eye injury after he picked up a nasty cut in a challenge with Cameron Jerome.
"Yes, he has a cut in his eye, but he never had any problem [to play on]."
The win moved City to the top of the table for 24 hours at least, but Pellegrini insists the title race will go to the wire.
"I repeat, there are six or seven teams that will continue fighting for the title to the end," added Pellegrini.
"Of the last eight games we have won seven and drawn one and recovered the distance Arsenal had on our team, but we continue next Wednesday [at Swansea] and the second half of the season will be very difficult for all of us."