Fernandinho says Manchester City's draw against Sunderland is a disaster
Fernandinho says Manchester City's 2-2 draw with the Premier League's bottom club Sunderland was "a complete disaster".
Last Updated: 17/04/14 2:12pm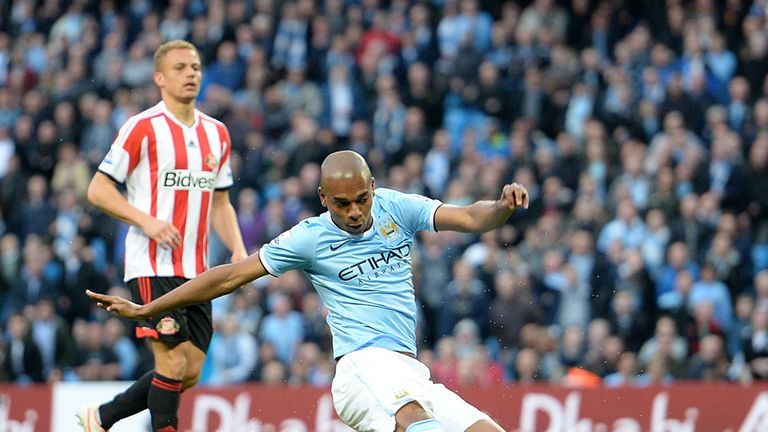 Title-chasing City were held to a 2-2 home draw by Gus Poyet's struggling side, a result that leaves them six points behind leaders Liverpool with a game in hand.
Fernandinho got City off to the perfect start, scoring after just two minutes, but two goals from Connor Wickham left Manuel Pellegrini's side facing a shock defeat until Samir Nasri's strike rescued them a point.
"It's a very disappointing result," said Fernandinho. "The whole team is disappointed about the result, especially in the way we played. The result was a complete disaster for us.
"We started well and scored the goal, but for 50 minutes after that we lost control of the game and they played better than us. Right at the end we tried to score another goal but it wasn't enough.
"We scored after two minutes but then changed our style of game and paid for it. They had three clear chances in the first half and then scored two in the second half, when we lost our position on the pitch.
"We need to keep our heads up and think about the next game, when we cannot make a silly mistake, as we did."
The Brazilian also conceded that tiredness may have contributed to the defeat with City now having played 13 more games than title-rivals Liverpool as a result of their involvement in Europe.
"It can make some difference because we have been going for the Champions League, the Premier League and both cups and maybe our players are feeling a little tired," said Fernandinho.
"Maybe it has made a difference, but our team was good, especially in December and January."
He is refusing to concede the title, though, with his team having five games left to play, starting with a home game against West Brom.
"Our focus has to be on West Brom on Monday, and that will be a massive match for us," added the Brazilian.
"It's really very hard, after the bad result against Liverpool. But we have to keep our head up and now need to look to West Brom here at home.
"We believe we can win the title. Chelsea and Liverpool have four games and they may drop some points - we think we can still win the title.
"We need to keep on - they can drop some points in their games and we need to win five games. We will see what happens in the end, but we need to recover our motivation for the next game and beat West Brom."
You can watch Manchester City's game with West Brom live on Sky Sports 1HD on Monday 21 April from 7.30pm.