Premier League: Pablo Zabaleta knows Manchester City have work to do
Pablo Zabaleta insists no-one at Man City is taking anything for granted in their pursuit of the Premier League title.
Last Updated: 11/05/14 2:08pm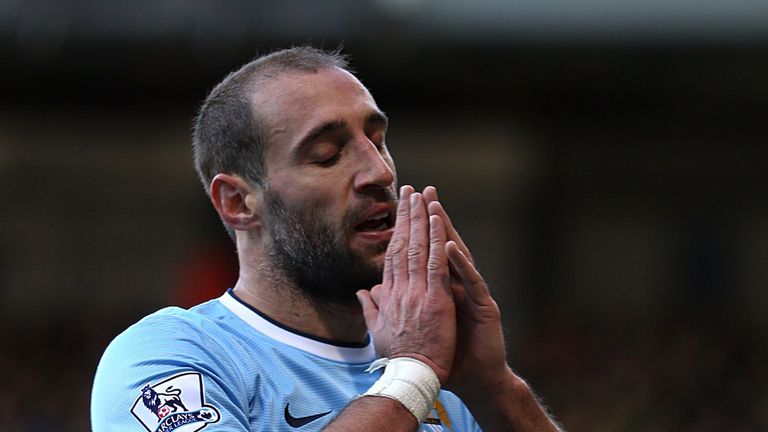 Manuel Pellegrini's side need just a point from their final fixture of the campaign - at home to West Ham United - to be crowned champions for a second time in three years.
Liverpool, though, are refusing to give up on their claims to the top prize, with any slip-up from City set to open the door to them in a meeting with Newcastle United at Anfield.
Zabaleta acknowledges that City are right where they want to be, having put themselves in pole position with a 4-0 victory over Aston Villa on Wednesday, but is adamant that they will be looking to surge over the line in style with another three points on Sunday.
"Everybody was happy, of course," the right-back said after the Villa game.
"Every time you win a game like that you celebrate, and we knew it was an important game to give us another step forward for the title.
"But every single player knows we have done nothing yet.
"We need to keep fighting. The spirit of this group has been fantastic in the last few games and we just need to keep playing the way we want to play. We have been doing it for the whole season so we will change nothing.
"We know a draw is enough to win the league but we won't be playing for a draw. We will play to win."
City have been involved in last-day title deciders before, having come out on top in dramatic fashion back in 2012, and Zabaleta believes that experience stands them in good stead as they chase down another major honour - although he is hoping things will run a little smoother this time around.
The Argentina international said: "Most of our players have been here for more than two years, so we have experience of the game against QPR where everything was decided in the last minute.
"We don't want that again, so we need to have a good rest because Sunday will be another tough game.
"We need to finish this with a big win on Sunday, and we need the fans from the start.
"They have a chance to celebrate another title so I am sure the atmosphere here on Sunday will be fantastic for 90 minutes, and I am sure the players will give 100 per cent to win the game.
"I hope that after 95 minutes we are all celebrating together."