Manchester City's Vincent Kompany setting sights on football's biggest prizes
Manchester City skipper Vincent Kompany is hoping to get his hands on the UEFA Champions League and World Cup.
Last Updated: 15/05/14 8:23am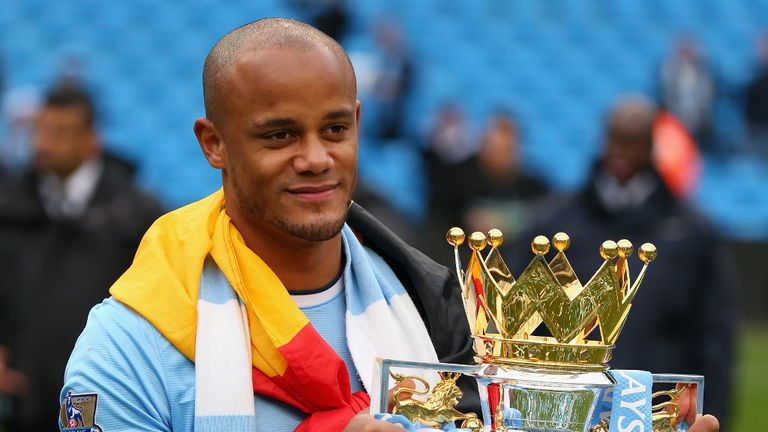 Fresh from lifting the Premier League title for a second time, and with FA Cup and League Cup successes toasted during his six years with City, Kompany is now looking to land the biggest prizes football has to offer.
He will go in pursuit of global glory with Belgium this summer, with a star-studded outfit considered to be dark horses in Brazil.
Kompany will then turn his attention back to club matters in 2014/15, and conquering Europe will be top of his agenda.
He said in The Sun: "Those are the two I want, but all in good time.
"I have to be honest, the World Cup is a top priority in my career. And then the Champions League.
"This club is going in the right direction and that's why I'm confident."
While continental honours will be a top target next season, Kompany concedes that the battle for domestic supremacy is likely to intensify - with Liverpool having emerged as serious contenders and Manchester United expected to spend big in an effort to put themselves back in the frame.
He added: "It's hard to say (who will be strongest) because every year the other teams continue to invest and grow stronger. No team says, 'We accept this'.
"Therefore, the Premier League will be very competitive and therefore there is no guarantee of success."
City have, however, proved by taking the title in two of the last three seasons that they have the stomach for a fight.
It was only on the final day of the 2013/14 campaign that Premier League glory was wrapped up, but Kompany claims that Manuel Pellegrini's side always believed that would eventually come out on top.
He said on a race which went down to the wire: "Because we had to play in four competitions until March we were always behind.
"We never thought, 'It's in the bag'. But what was there all along was belief.
"At no time did it seem as if the title was out of reach.
"Two years ago it did. When we lost to Arsenal, we did have the feeling we had lost it. This time we never had that feeling."