Manuel Pellegrini backs Stevan Jovetic to show quality as Manchester City thrash AC Milan in pre-season
Last Updated: 28/07/14 12:45pm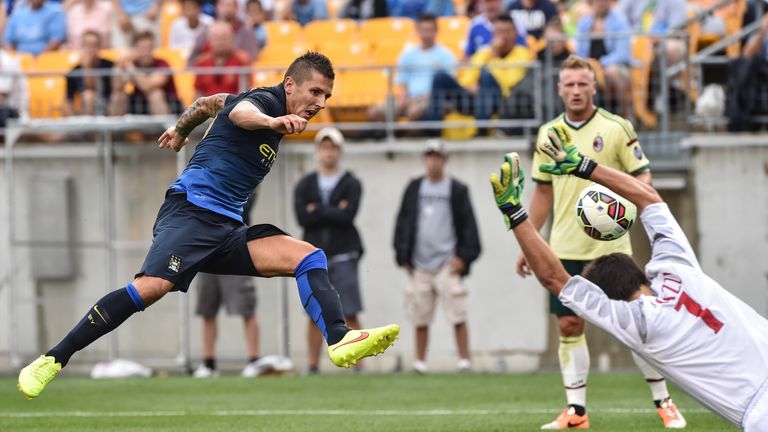 Stevan Jovetic will be a big player for Manchester City this season, according to his manager Manuel Pellegrini.
Jovetic cost City £22million last summer, but injuries restricted him to a bit-part role in the club's Premier League title succes.
The Montenegro forward started just twice in the league but has made an impressive start to pre-season and scored two of City's goals in Sunday's 5-1 win over AC Milan in Pittsburgh in the International Champions Cup.
Alvaro Negredo will miss "a few months" with a broken foot, and that could mean early opportunities for Jovetic when the new season begins.
Speaking after the game, Pellegrini said: "Stevan had very bad luck last year.
"He had a lot of injuries and it's very difficult for a player to really have an important performance when he can't play three games in a row.
"This year he's started pre-season well, and if he continues to work every day, he will demonstrate why he's here at Manchester City. He's a very good player.
"Maybe there are a lot of rumours about his future but Stevan will stay here."
City now go on to face Liverpool in their second Group B clash, at New York's Yankee Stadium on Wednesday night.
Watch Liverpool v Manchester City live in the International Champions Cup on Sky Sports 1 HD (kick-off 12am BST on Thursday, July 31).