Fulham boss Martin Jol believes he can get the best out of Darren Bent
Fulham boss Martin Jol hopes he can get the best out of Darren Bent following his arrival on loan from Aston Villa.
Last Updated: 26/08/13 11:43am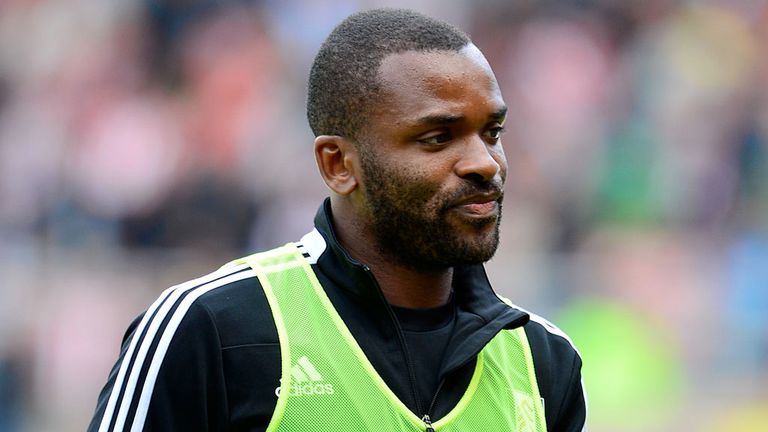 Bent made his debut off the bench and scored his first Cottagers goal, netting for a sixth club in the top flight, in the 3-1 loss to Arsenal on Saturday.
"Sometimes if you take players when they are in a bad situation and you know the potential, you always hope you are the one who will get the maximum out of that potential," said Jol, who managed Bent at Tottenham.
"With other players it's always a gamble but if you look at his record, he scores goals. Even when he's not playing he scores goals.
"When I was at Tottenham he scored nine goals and Jermain (Defoe) got 12 and I can't remember Darren playing.
"Even his record at Aston Villa was at least one in three and if you play him regularly at least one in two or one in 1.5.
"(Dimitar) Berbatov is the same. He's not a gamble.
"Sir Alex (Ferguson, then Manchester United manager) wanted other players and (Robin) van Persie came in but I still said to him that I think Berbatov is good enough to play for me.
"And he scored 18 goals last season. So that is not a gamble.
"The only thing is how can you let them play together? That's not easy."
Bent was marginalised at Villa but the 29-year-old will hope to revive his England prospects at Craven Cottage.
Bent has scored four goals in 13 internationals, but last appeared for England against Sweden in November 2011.
"It would be nice to show the people again how he can score goals," Jol added.
"He's an England player. He plays off the shoulder and how many teams want players like him?
"His pace is not something we have. We lack of a bit of penetration.
"Before the game last week (at Sunderland) they said 'Darren is always scoring against his old team' and I thought that was nice to know, so maybe I'll put him on in the second half. But he was not needed.
"Before the game (on Saturday) someone said 'he always scores against Arsenal' so hopefully next week someone will tell me 'he always scores against Newcastle'.
"I think he's scored a lot of goals against every team. I'm happy he's here.
"The challenge is to get all these players together in one team."