Maloney targets fast start
Wigan's Shaun Maloney is hoping to pick up where he left off last season and hopes the team can do the same.
Last Updated: 16/07/12 2:48pm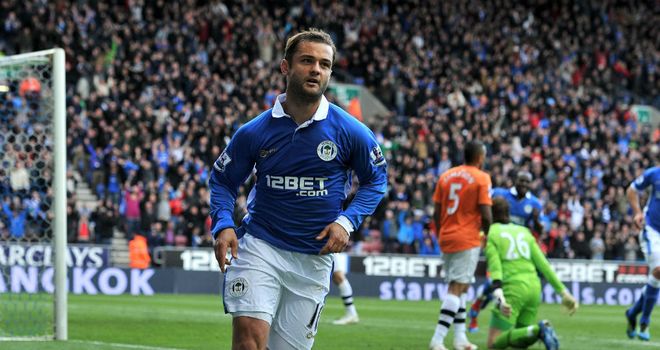 Wigan's Shaun Maloney is hoping to pick up where he left off last season and hopes the team can do the same.
The Latics made a sluggish start to their Premier League campaign 12 months ago and looked doomed to relegation until a stunning late revival kept them up relatively comfortably.
It was a similar story for Maloney, who did not show his best form immediately after arriving from Celtic but then played a starring role in the final few games.
The Scotland international is now raring to go for the new season and determined to play a key part in helping Wigan push on to better things.
"I was obviously in the team for the last couple of months and it was a great end for me personally as well as the team," Maloney told the Wigan Observer.
"It's given me determination to try and pick up next season in the same vein.
"Obviously the start we had wasn't great, and there were long periods before and after Christmas where we weren't at it, and we all know we have to be better than that next year.
"It's certainly given me the aspirations to try and start next year with a bang and try to make more of an impact over a longer period than last season."
Momentum
Wigan won seven of their last nine matches to raise hopes about what could be achieved if they become more consistent, but Maloney admits it will be difficult to recapture that sort of form and has played down talk of Europe.
"It would have been nice to have kept going, so we could have kept up the momentum, but you also need a few weeks off to recharge the batteries," he explained.
"Once the season starts we just need to pick up where we left off in terms of intensity, work-rate and desire.
"If we can do that then we'll win a lot more games than we'll lose."
Maloney added: "I think talk of challenging for Europe is probably a little bit unrealistic.
"We finished where we deserved to because of our bad start.
"We just have to hope we can start better next season, and if we do that we can certainly aim to finish a lot higher."