David Moyes' West Ham hopes could hinge on Andy Carroll's fitness
Last Updated: 19/11/17 8:11am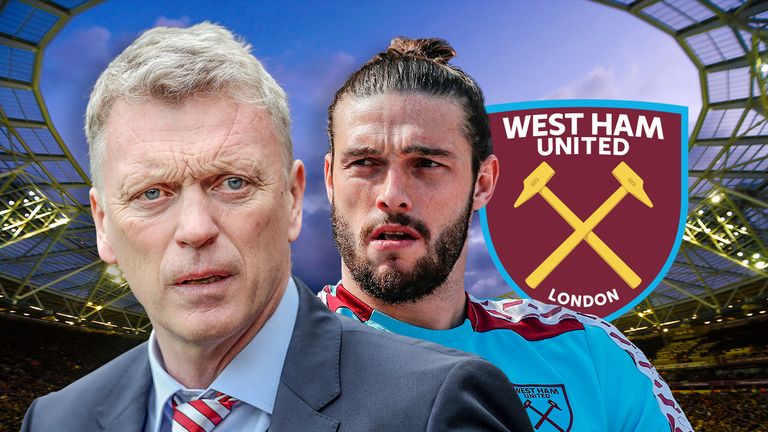 David Moyes was mocked for his crossing obsession but now he has his ideal target man. Why Andy Carroll could be the key figure for West Ham under their new manager…
It was surely the nadir. The moment that summed up the problem with David Moyes and his version of Manchester United. Fulham were the visitors to Old Trafford in February 2014. They were bottom of the Premier League with the competition's worst defence. They had not scored in five hours and had lost their previous nine against United. They drew 2-2.
It was not just the result. United looked like a team out of ideas, though it would be more accurate to say that they had one idea that proved ineffective. "Manchester United's approach was straightforward," said Fulham boss Rene Meulensteen. "Get it wide and put it into the box. That can be easy to defend against. They kept producing the crosses."
There were 81 of them in total. Thirty more than any other team had produced in a game that season. Thirty more than any other team has produced in a game this season or last. Fulham central defender Dan Burn, all 6'7" of him, dealt with most of them. Many Manchester United supporters simply could not believe what they were witnessing.
"To say it's disappointing is an understatement," former United assistant Mike Phelan told Sky Sports. "It's devastating more than anything. The variety in their play wasn't there. It was all about crossing the ball." Phelan had been relieved of his duties the previous year, but it soon became clear that his views were very much in tune with those still at the club.
"Some players felt they kicked the ball long more than at any time in their career," Rio Ferdinand later explained in his autobiography. "Sometimes our main tactic was the long, high, diagonal cross. It was embarrassing. In one home game against Fulham we had 81 crosses! I was thinking, why are we doing this? Andy Carroll doesn't play for us!"
Andy Carroll still doesn't play for Manchester United, but he does now play for David Moyes. With the Scot appointed as West Ham's new manager and tasked with dragging the club clear of the relegation zone, do not be too shocked if he plans to make the 6'4" target man the focal point of his attack. With Carroll around, all that crossing might even work.
These are Moyes' tried and trusted methods, after all. There will be space created for the full-backs and there will be crosses into the box. That could suit Aaron Cresswell too - "he whips them in and puts them on a plate," Carroll once said of the left-back - and even the ageing Pablo Zabaleta, once one of the most effective attacking full-backs in the league.
"Probably one of my best seasons at City was when I was overlapping all the time and making runs," noted the Argentine earlier this year. He certainly has a target in Carroll and the team as a whole could benefit from a clarity of approach given that one of the criticisms of this West Ham side is that there appears to be no orchestrated plan in attack or defence.
The problem is that none of this is news to Slaven Bilic. His side already ranked second for long balls and fourth for crosses this season, but he could not get Carroll on the pitch often enough. With Carroll, Bilic's West Ham were unbeaten in five this season - even clinging on for a point after his red card at Burnley. Without him, they lost six of their eight games.
Here, there are echoes of Moyes' experiences at Sunderland. Of course, there can be no ignoring the woeful mistakes made in the transfer market and on the pitch during his time at the Stadium of Light. Even so, it is interesting to note that the Black Cats were a different proposition when the team's target man, Victor Anichebe, was on the pitch.
Without the burly Nigerian striker in the Sunderland starting line-up, Moyes' men picked up only eight points from 24 games - a truly wretched record to rival the worst teams in Premier League history. But with Anichebe in the team, they managed 16 from 14 - more than enough to stay up and much closer to the haul of a mid-table top-flight team.
"He is a handful and on his day, if we can keep him fit, he is a really powerful boy," Moyes said in last November after Anichebe's two goals against Hull. But they could not keep him fit and Sunderland failed to find another solution. "When we lost Victor, that was the key to it," Moyes later admitted. "We needed to keep looking for another way to get up the pitch."
It illustrates just how vital the target man is in a Moyes team. And now he has the ultimate target. If Carroll can stay fit then his new manager will have a clear idea of how to use him and will be confident that West Ham will climb the table. If he cannot stay fit then recent history suggests that neither club nor manager has yet found another way to succeed.