Mark Noble warns West Ham's defence need to be fired up for FA Cup visit by Manchester United
Mark Noble has warned West Ham's defence need to be fully fired up for Saturday's FA Cup visit by Manchester United.
Last Updated: 02/01/13 9:11pm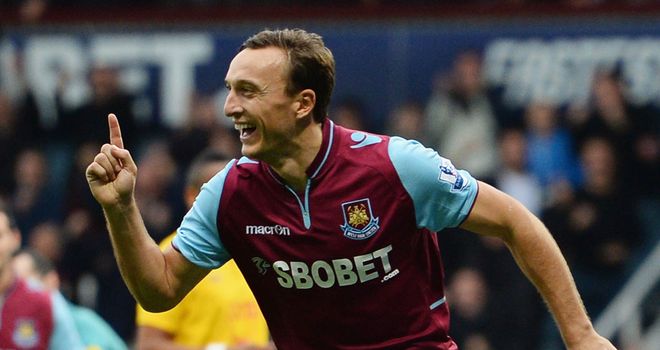 The Premier League leaders head to Upton Park on the back of a 4-0 demolition at Wigan which secured an eighth win in the last nine.
Although the Hammers will not have to deal with the injured Wayne Rooney, red-hot strikers Javier Hernandez and Robin van Persie will be eager to add to their braces they bagged against the Latics on Tuesday.
"It is anyone's guess how you stop them, with the service which goes up to Van Persie and Rooney, the players they have, they are brilliant," said Noble, who scored a penalty in his club's 2-1 win over Norwich.
"We might have to build a wall in front of our goal, I don't know - but it will be a great night and we are all looking forward to it.
"This is the FA Cup and anything can happen. They will make some changes and we probably will too, but if we play anything like we did against Norwich, then we have a good chance.
"Our main aim obviously is to stay mid-table in the league, but when you play Manchester United at home in the FA Cup, you get that extra edge and buzz, and we are going to want to win.
"It will be a great occasion for everyone."
West Ham's victory over the Canaries was their first in four weeks, finally reinvigorating their league campaign and lifting them up to 11th.
"We have had some tough games in the last month, against the bigger teams you have to work harder and we did pick up some injuries to some big players," Noble added.
"But we have managed to come through it and are still in mid-table. Now we can push on and look forward to the new year.
"We just need to keep that gap there and winning games."