Kevin Nolan hopes to lead West Ham out at Olympic Stadium in 2016
Kevin Nolan says he would relish the chance to lead West Ham out at the Olympic Stadium when they move there in 2016.
Last Updated: 30/03/13 1:02pm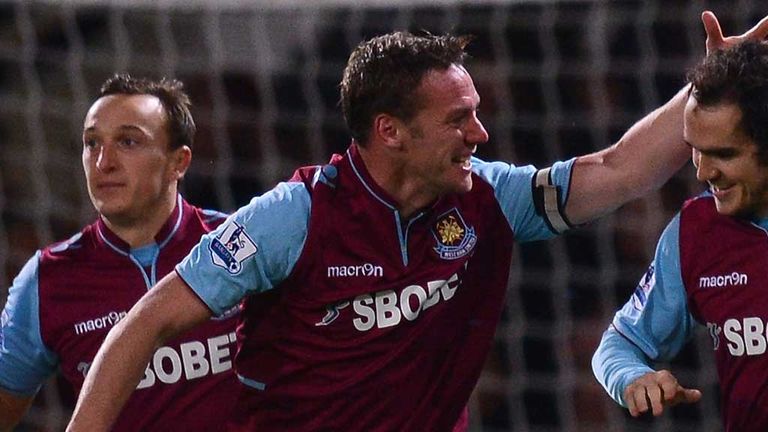 The Hammers were finally confirmed as tenants of the iconic stadium earlier this month on a 99-year lease.
The ground will now undergo redevelopment work to convert it for use as a football stadium at a cost in the region of £150million in time for the start of the 2016-17 season.
Nolan's contract at the Hammers expires at the end of the previous campaign, though he admits he would love to stay at the club and become the first player to walk out at the new ground.
He also believes Sam Allardyce is the ideal man to have at the helm as they prepare for a new era in east London.
"I'll be 33 or 34 then, so who knows? There would be no one more proud if I was able to walk out there as captain for the first game at the stadium," Nolan told the Independent.
"Being at the launch last week and seeing all the fuss about it, you can't help but get a little bit of a buzz.
"Everyone that sees the plans will be excited about it but now it's just down to us, as a group of players, to make sure when we do get there we're a well-established Premier League team and pushing for European places.
"If there's one man who should lead them into that stadium it is Sam. I firmly believe with him at the helm West Ham will be where they need to be come 2016."
If Nolan does not lead the Hammers team out onto the field in Stratford he may well be in the dugout, with the midfielder revealing he would like to go into management when he hangs up his boots.
"I've always thought since I was a young lad that I'd love to be a manager," he added. "I think everyone just expects it from me now - all the lads in the changing room say, 'You can see you're going to be a gaffer' but you never know, do you? You never know if you're going to get that chance.
"I'm going to be taking my badges to know that if there's anything out there when I do finish then I can have a crack at it.
"I know that I'll always have Sam on the end of the phone if I ever needed any help or advice."