Sam Allardyce delighted with West Ham's victory over Cardiff on opening day
Sam Allardyce admits he could not have asked for anything more from West Ham as they opened with victory over Cardiff.
Last Updated: 17/08/13 6:53pm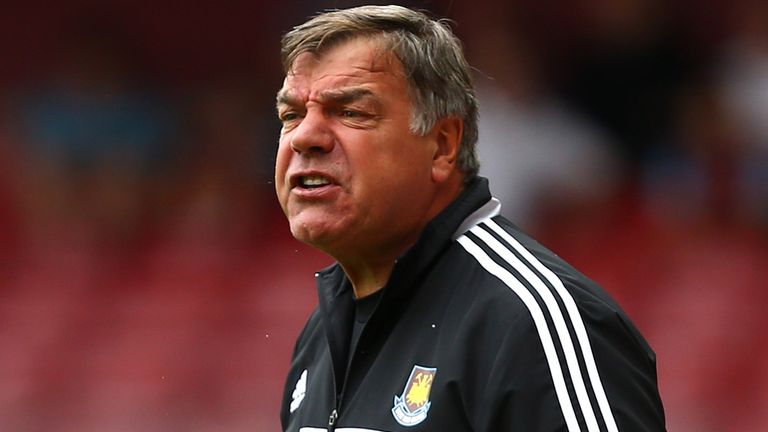 The Hammers dominated proceedings from the off against newly-promoted opposition and were full value for a 2-0 success.
Joe Cole and Kevin Nolan did the damage in the final third, while a resolute back line was rarely troubled by the toothless Bluebirds.
Allardyce is delighted to be up and running in such comfortable fashion, but admits he is unlikely to be able to build on a bright start by dipping back into the transfer market before the summer window closes.
He told Sky Sports: "From our point of view, we started the game very well indeed and the one thing we were looking for was: are we going to score, are we going to take advantage of this very good start? The quality and ability of first Matt Jarvis' cross and then the ability of Joe Cole in the box - not an easy chance to take the ball behind him, touch, swivel and put it in the bottom corner.
"In fact, Joe is disappointed he didn't get a hat-trick today because he got a fantastic free header at the far post off another Jarvis cross and then he got the one-on-one, where instead of slotting it into the back of the net he tried to chip the goalkeeper.
"All of those chances came in the first half, so 1-0 was fine but really it should have been more than that.
"Cardiff had a bit of a spell just after half-time, we sat in and defended very well because for the entire game they have only had one shot on target. Breaking out from there, Kevin Nolan pops up to ease all of the nerves for us.
"It was a good day, a really good day, and everybody has come off feeling great. I don't think there are any injuries either, which is a big part for us and very important for us. We can look forward to Newcastle away next week with confidence now."
Pressed on whether the performance against Cardiff suggests West Ham should be confident of building on last season's 10th place finish in the Premier League, Allardyce added: "Not at the moment because we have to calculate how everybody else is going to spend between now and the end of the window.
"You look at Cardiff, they have spent something like £26-28m, is that going to continue before the window shuts? Who else is going to go out and buy more players?
"We certainly aren't in a position at the moment, we've spent our budget, so we are where we are and we are the squad we are at the moment. That was more than good enough today."