Football Commentator & Columnist
Martin Tyler's stats and facts: Why this is the best-ever season for goals
Last Updated: 17/02/17 7:35am
From the number of goals scored to Manchester United's unbeaten run, Martin Tyler has the best stats from the latest round of games...
Hit the video to see his latest tricky teaser and send your questions to Martin in one of the following ways...
Use the comments box at the bottom of this page
Tweet @SkyFootball using the hashtag #TylersTeasers
Martin's Starting Stats
I was at Turf Moor to see Chelsea remain unbeaten under Antonio Conte outside London. Their only four defeats were at home to Liverpool, away to Arsenal and Spurs, and at West Ham in the EFL Cup.
Burnley reached 30 points, 29 of those coming at home, and Chelsea moved up to 60. Burnley's run of five home league wins in a row ended. If they'd won it would have been their first six-in-a-row since 1961. Burnley's last league win against Chelsea was back in 1983.
This is Burnley's third Premier League season. In each of the other two (2009/10 and 2014/15), Chelsea finished the campaign as champions. They are hoping for a hat-trick!
Robbie Brady had played five and lost five against Chelsea with other clubs, so he ended his personal losing streak with his equaliser.
Gary Cahill played his 150th Premier League game for Chelsea - his first senior football was played for Burnley on loan from Aston Villa in 2004/05.
Michy Batshuayi made his 16th Premier League appearance, all as a substitute. Matt Lowton made his 50th Burnley appearance and his 200th career league game. Michael Keane made his 150th career appearance.
Man Utd's winning run
What is the longest Man Utd have ever gone unbeaten in the Premier League? How does their current run of 16 games compare? Jack W (Essex)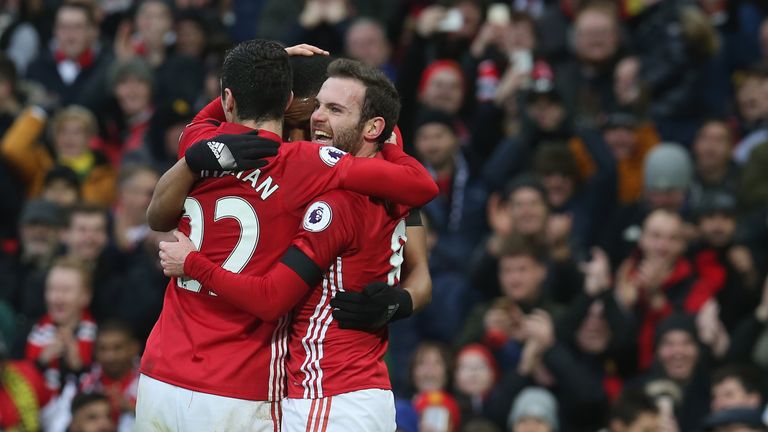 MARTIN SAYS: Jose Mourinho's side haven't lost in the top flight since their 4-0 humbling at Chelsea in October, but they still have some way to go to beat their longest unbeaten run.
United have on two occasions gone on an unbeaten run of 29 games, first in 1999 then again in 2010/11. Zlatan Ibrahimovic and Co would now need to avoid defeat in every game between now and the end of the season to match that again.
They won the title on both of those occasions - if they can stay unbeaten, could they become champions again? They would feel they may need to win most of their remaining 13 games to achieve that.
It is, however their longest run since Sir Alex Ferguson left the club in 2013!
Man Utd's longest unbeaten runs
| No of games unbeaten | Date of last game in run |
| --- | --- |
| 29 | September 25, 1999 |
| 29 | February 1, 2011 |
| 22 | February 26, 1994 |
| 21 | September 23, 2000 |
| 21 | August 27, 2003 |
| 20 | April 2, 2005 |
| 18 | March 30, 2013 |
| 16* | Current run |
Topsy-turvy Sunderland
Sunderland beat Crystal Palace 4-0 before losing 4-0 at home to Southampton. Has a team ever won by four goals and then lost by four goals in consecutive Premier League matches? Al
MARTIN SAYS: Sunderland's defeat at Southampton meant they became just the fourth team in Premier League history to achieve this feat, in this order.
The first was Coventry in February 1994, when they thumped Man City 4-0 (h) before losing by the same scoreline to Newcastle (a).
Arsenal did the same in May 1998, beating Everton h) then losing to Liverpool (a).
More recently, Blackpool began their sole Premier League campaign in August 2010 with a 4-0 win over Wigan (a), before being thrashed 6-0 at Arsenal a week later.
This means that Sunderland are the first to win 4-0 AWAY from home and then lose 4-0 at HOME.
West Ham's late slips
How many goals have West Ham conceded after the 90th minute this season compared to other teams? Jimmy Hunt
MARTIN SAYS: Six teams, including West Ham, have conceded four times after the 90th minute in the Premier League this season.
Burnley, Crystal Palace, Hull, Sunderland and Swansea have all also done the same, but are all below the Hammers in the Premier League table.
The kings of conceding late on, however, are Bournemouth. Eddie Howe's Cherries have conceded in second-half stoppage time on no fewer than six occasions this season.
Every team in the Premier League has conceded at least once after the 90th minute, with Arsenal, Chelsea, Liverpool, Southampton, Tottenham and West Brom (all one each) at the bottom of the pile.
Late goals conceded
| Team | Goals conceded in 90+ mins |
| --- | --- |
| Bournemouth | 6 |
| Burnley | 4 |
| Crystal Palace | 4 |
| Hull | 4 |
| Sunderland | 4 |
| Swansea | 4 |
| West Ham | 4 |
| Everton | 3 |
| Man City | 3 |
| Stoke | 3 |
| Leicester | 2 |
| Man Utd | 2 |
| Middlesbrough | 2 |
| Watford | 2 |
| Arsenal | 1 |
| Chelsea | 1 |
| Liverpool | 1 |
| Southampton | 1 |
| Tottenham | 1 |
| West Brom | 1 |
Goal gluts
What is the average goals-per-game in the Premier League this season? And how does it compare to other seasons?
MARTIN SAYS: 2016/17 is on track to becoming the highest-ever goal-scoring season in Premier League history!
We have seen 704 goals in the 250 matches played so far, which is an average of 2.82 goals per game.
That's just higher than the complete 2011/12 season, the dramatic campaign which ended with Sergio Aguero's late winner to clinch the title for Manchester City, and saw a total of 1066 goals at a rate of 2.81 per game.
2010/11 and 2012/13 were close behind with each seeing 1063 goals, or 2.80 per game.
At the other end, 2006/07 was the most boring Premier League season in terms of goals scored, with just 931 going in at a rate of 2.45 per game.
That's one of nine Premier League seasons to have seen less than 1,000 goals. Interestingly, the 2002/03 season saw EXACTLY 1,000 goals. At the current rate we are on course for 1070 goals this season.