Seagulls soaring
Brighton's Inigo Calderon discusses promotion pushes, international stars and life in England.
Last Updated: 27/05/13 11:05am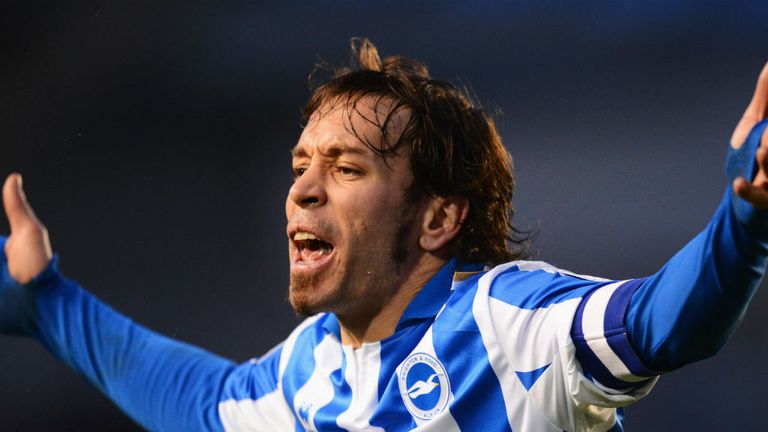 The 2012/13 campaign is about to enter the final straight, with promotion pushes and relegation battles now in full swing.
Here at Sky Sports we continue to take you to the very heart of the Football League, with our Spotlight features intended to give you a greater insight into the clubs and players that keep us on the edge of our seats.
We are hoping to bring you the views and thoughts of a representative from each of the 72 teams over the course of the season, with those involved asked to give their take on the division they compete in, the club that pays their wages and those we should all be keeping an eye on.
Brighton's Inigo Calderon is next in the hot-seat, with the Spanish full-back taking time out to discuss play-off pushes, international stars and life in England with Chris Burton.
You picked up an important win against Hull City on Saturday. How vital is it to take points off those sides that are pushing for promotion alongside you?
We always treat these games as a test because they are fighting for the play-off positions also. They are there and you have to try and take three points. If you do that, they are for you. Sometimes you say these games are worth more than three points, so of course it was a massive win for us. We maybe didn't play that well, but enough for three points.
Was it also important because you had gone three games without a win?
This division is very, very complicated and anyone can win against anyone. It is really important to stay there at the top. If you can get two or three wins in a row, you can take a massive step forward. We did that on Saturday and we have another chance on Tuesday to pick up another three points.
You have been just outside the play-off places for a long time, are you looking to push into that group over the next couple of weeks?
Now is the moment. There are 15/16 games to go and you have to be ready to fight for all the positions and make sure that in the last few games you are in the five, six, seven teams that want to fight for the places. We are now there. We are two points from the top six, so we are there. We have to make sure we have a big push into there and try to be there in the last few games.
Brighton have drawn 12 games already this season, is that a few too many?
For sure. It's maths at the end. If you have three bad games, you can then win one game and you get the same points. We think we deserve more points but you are in the position you deserve. If we are in the top six it is because we deserve it, if we aren't it's because we don't. We should have more points than we have now.
The division is so tight, though, you look at Charlton in 15th and they are only seven points off the play-offs
It's really crazy. If you were to bet money in this division, you couldn't win. It is the most difficult division to call because it is so competitive. Everyone from the top, from Cardiff, to the last one is competitive. I think that is good because if you win three or four games, for sure you are going to be up there because no-one can win all the time. That is good for us.
Brighton have done things the right way haven't they, Gus Poyet hasn't spent too much money and tried to rush things?
We are doing it right. People maybe think that we spend money, but the chairman has been quite clever with it. He didn't want to be crazy and bring in massive players on massive money, with massive wages. We have taken steps forward as a team. The gaffer has always said that he wants to be ready to stay in the Premier League for a few years, not to go up and come down again. I think we are doing it right.
It must be nice for you at the moment with such a strong Spanish influence in the squad?
More for them than for me. I have already been here for a few years and they are coming in now. They are looking to settle into the team and we are here to help them. We feel more comfortable with the players. I think it is a good mix. We have a lot of good characters and it is good for us.
In Vicente you have a former Spain international who has won the Primera Liga title - it's great for the club isn't it to have players like that on board?
It's great. I think he has been the best signing for us. He couldn't play in all of the first matches, but now he is getting fit and performing. I think he is the best player in the division. It is great to play with him. It's massive for him to be at the club.
You also have Wayne Bridge and Matt Upson at the moment, two England internationals.
It's great news. In the past they were working with Capello. Now they are playing here and a few years ago we were playing in League One. We are doing something good. They have good experience and are helping us a lot. It's good to have the spine of English players, but there is a good mix in there.
Who at Brighton has really impressed you this season?
I think Liam Bridcutt has been playing consistently well. He has played very well for us in midfield. He is quite young and we have got Wayne Bridge helping him going forward. He has been really good.
Is the aim for you now just to play as many games as possible before the end of the season?
My aim is the same as the rest of the squad, you want to play games. But we want to get as high as we can so if I only play five, six or 10 games, it doesn't matter because you want to help the team however you can. I want to play, but the target is the top six and that is what we are looking at.
Finally, are you still happy that you made the right choice in moving to England - you are out of contract in the summer?
I am happy. I am looking forward to staying here in England because it was complicated back home and I don't want to go back yet. Here, the football is much better all of the time. I want to be here.