Transfer news: Barnsley looking to bring in another striker
Barnsley boss David Flitcroft feels he is still a striker light and claims to have received no bids for his key men.
Last Updated: 13/07/13 6:16pm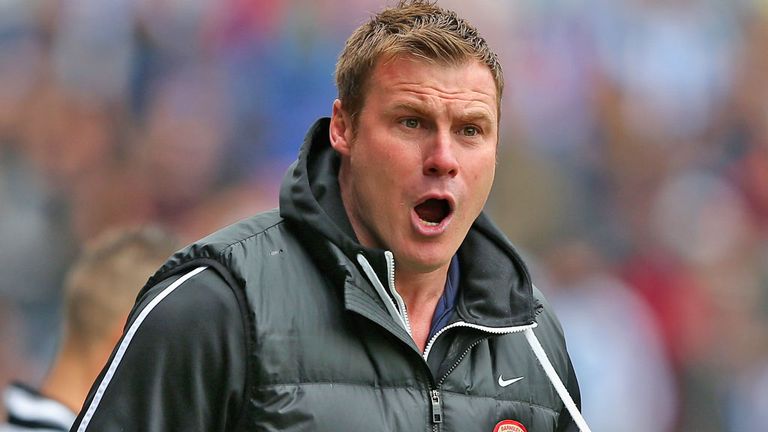 The Tykes are working to a tight budget at Oakwell, so will be taking the opportunity to have a look at a number of triallists.
Flitcroft hopes one of the forwards will be worth taking, with reports suggesting he is keen on Queens Park Rangers' Andrew Johnson having already been played down.
He told the Barnsley Chronicle: "Once we get another striker, I think the squad will be well-balanced and I will be very comfortable to go into the season with that squad.
"In four weeks it could be a totally different picture because we have tough pre-season games to navigate and we could pick up injuries, but for now I am happy."
Flitcroft had been hoping to add former Motherwell striker Michael Higdon to his ranks, but lost out in that particular transfer tussle to Dutch outfit NEC Nijmegen.
He added: "Michael got a fantastic offer financially but I think that, if he came to the Championship, he would have come to Barnsley. We missed out on Michael but the search goes on. We will move on to the next target and then the one after that.
"We're after a player that can score goals. Whether we find a player who can run in behind or a mobile target man like Chris O'Grady, we will get the right striker for the club."
Meanwhile, Flitcroft claims there have been no approaches for any of those players he considers to be crucial to his plans heading forward.
He added: "I speak to a lot of people in football. They ask the question about our players but there's been no official approaches.
"I'm pleased about that but I think what we have seen by the seven out of contract players signing is that this squad doesn't want to go anywhere else. When you build something quite unique, players have a difficult decision to make.
"We don't want to lose players but if someone made a big offer then you don't know what will happen, but we are in a good position."