Transfer news: Stephen Ward no nearer to making a move away from Wolves
Last Updated: 06/08/14 1:15pm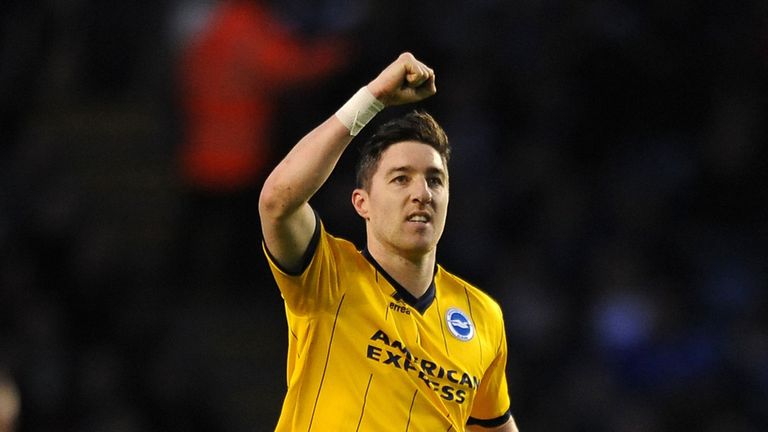 Stephen Ward continues to be linked with a permanent move to Brighton & Hove Albion, but Wolverhampton Wanderers claim a deal remains some way off.
The Republic of Ireland international spent the 2013/14 campaign on loan at the Amex Stadium, helping to secure a place in the Sky Bet Championship play-offs.
It was expected that he would return to the south coast when the transfer window re-opened, but no agreement has been reached.
Wolves boss Kenny Jackett says there has been no movement at all, with Brighton yet to offer any indication that they will be looking to land the 28-year-old on a full-time basis.
It has to be a philosophy of the club, whether that's through coaching, scouting or the best route which is to develop your own.
Kenny Jackett
He said: "Nothing has developed at all. He has been with us getting fit, getting match fit, which he needs to be for his next challenge.
"He is a good professional. He had a good year last year, playing regularly at left-back in a side who got in the play-offs.
"But we're not close to anything and as far as I'm aware Brighton haven't been in touch."
Another of those to have been linked with an imminent exit from Molineux is Austrian defender Georg Margreitter, but again Jackett says there is nothing to report.
Margreitter spent last season with FC Copenhagen and Jackett added: "I'm sure there are people working hard, his agent, and the powers that be at our club will be working hard to give him that opportunity.
"But has anything reached us at that level? No it hasn't."
Jackett has also stressed that while he remains in the market for new recruits, no movement on the attacking side is expected before the new season gets underway.
He said: "In pre-season we have mainly played 4-3-3 and that's left a choice between (Nouha) Dicko and (Leon) Clarke with (Liam) McAlinden being just on the edge and Jake Cassidy going out on loan.
"We have players in those positions. Would we like to be as good as we can? Yes. Will we look to improve? Yes.
"It has to be a philosophy of the club, whether that's through coaching, scouting or the best route which is to develop your own."