Top ten returns
With Rafa Benitez heading back to Anfield for the first time this weekend, Sky Sports looks back at previous managers who have not always enjoyed a positive reception on their return to a former club
By Oliver Todd
Last Updated: 19/04/13 2:15pm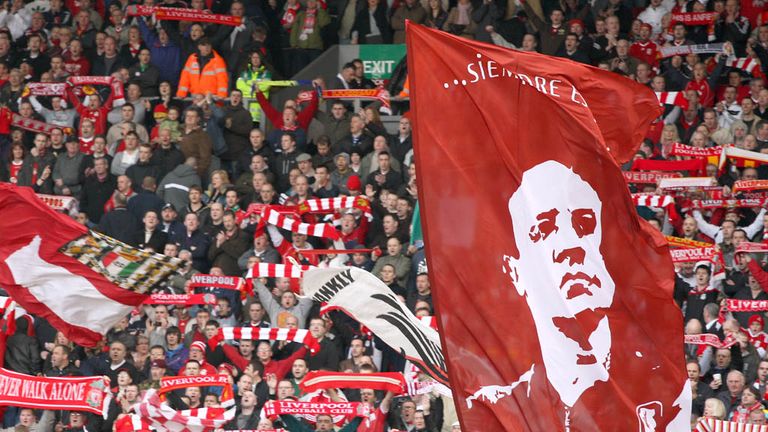 With Rafa Benitez heading back to Anfield for the first time this weekend, the former Liverpool manager is expected to receive a warm welcome when leading out his Chelsea team.
However, not every manager has enjoyed a positive reception from his old fans and Sky Sports looks back at 10 bosses who have been on the receiving end of a less-than-friendly welcome.
Harry Redknapp
After leaving Portsmouth following a dispute with owner Milan Mandaric, weeks later, Harry Redknapp did the unthinkable and became manager of south coast rivals Southampton. He subsequently infuriated Pompey supporters and was labelled as 'Judas', with banners at Fratton Park encouraging the former West Ham man to "Rot in Hell."
Redknapp returned to his former club with his new charges with just three games remaining of the season and both clubs threatened with relegation. He was welcomed by a chorus of boos and saw Portsmouth thrash their south coast rivals 4-1 in a convincing victory that left Southampton rooted to the bottom of the table. The result saw the atmosphere turn to songs of glee with Pompey fans berating Redknapp with a chant of "Judas, Judas, give us a wave."
Redknapp eventually returned to Portsmouth in December 2005 after resigning at Southampton, telling chairman Rupert Lowe that Portsmouth was his "spiritual home," and ultimately may have enhanced his reputation at the club, having taken their bitter rivals down before winning their first FA Cup in 69 years.
Mark McGhee
Scotland assistant manager Mark McGhee has frequently found himself on the wrong side of former clubs' supporters, and his return to Motherwell as Aberdeen manager in August 2009 was no different. Coming just months after he swapped Fir Park for Pittodrie, McGhee said he was "disgusted" by the torrent of foul-mouthed abuse he received on his return.
He described the reception he received as "totally out of order", but McGhee is no stranger to this sort of reaction from fans at former clubs. After starting his managerial career at Reading, he later returned as Wolverhampton Wanderers boss, only to be greeted by what was described by one Reading fanzine as "a constant torrent of highly vocal abuse which left the former Elm Park boss visibly shaken."
Dougie Freedman
A legend as a player at Crystal Palace with over 200 appearances, Dougie Freedman started this season as manager of the Eagles before quitting in October when Bolton came calling. Palace initially rejected the approach for their young manager before accepting, with Freedman having little time left on his Selhurst Park contract.
As the face of the club's new, young identity and a recognisable figure from the past, Freedman was universally popular until his move, when everything changed. On his return to Selhurst Park, he was booed from as soon as he got off the Bolton coach and was criticised for not thanking the Palace fans upon his departure. With both Palace and Bolton fighting to make it into the play-offs at the tail end of the season, there could yet be another twist in this tale.
Owen Coyle
Coyle was hugely popular at Burnley having led them from the Championship to the Premier League, via the play-offs, within two seasons of taking over. Regarded as one of the best young managers around, Coyle was battling relegation in his first Premier League season with Burnley when Bolton sacked Gary Megson in December 2009. Just nine days later, Wanderers swooped to bring Coyle across East Lancashire from their claret and blue rivals.
Fortunately for Coyle, Bolton had already visited Turf Moor that season, so he was spared a large part of the inevitable abuse from Burnley fans, but next season, with Burnley now back in the Championship, the two were drawn together in the third round of the League Cup. The tie came about to the delight of the Burnley supporters. Coyle had eight security personnel surrounding his dugout throughout the tie, was jeered and met with banners and chants of 'Judas'. Burnley won the match 1-0 which new manager Brian Laws insisted should put the Coyle saga to bed.
Jose Mourinho
After serving as assistant manager at Barcelona to Louis van Gaal, Mourinho went on to cut his managerial teeth at Benfica and Porto before his return to the Nou Camp with Chelsea. Always one to court controversy, Mourinho made accusations of foul play against the Catalans in a Champions League tie before returning again the following year.
By this time, the self-appointed 'Special One' had become a hate figure for Barcelona fans and they greeted him as 'The Translator' - a harsh critique of his role at the club under Van Gaal and Sir Bobby Robson. He later had run-ins with the club as Inter Milan boss, storming onto the pitch after claiming victory in the Nou Camp, much to the anger of the Catalan press, the fans, and goalkeeper Victor Valdes, before reigniting the highly-charged relationship between the club and the Portuguese manager by taking over at rivals Real Madrid.
Fabio Capello
As a player, Fabio Capello's sale from Roma to Juventus in 1970 sparked huge violence across Rome and ended the reign of then-president Alvaro Marchini. 34 years on, history repeated itself. Capello left Roma with a huge amount of debt and signed for Juventus, hugely angering the Roma fans who understandably felt betrayed. To rub salt into the wounds, he then signed prized Brazilian midfielder Emerson from his former club.
The Italian had once stated, whilst in charge at Roma: "I will never coach Juventus," only to go back on his word. He received a hostile reception when Juve visited the Stadio Olimpico in March 2005, his first return to the club, in a game that the Turin side went on to win 2-1. Capello went on to win back-to-back titles at Juventus, but Roma had the last laugh when Juventus were stripped of their two championships following the 2006 Serie A match-fixing scandal.
Dusan Bajevic
Not as well known on these shores as most of the others in this list, Bajevic emerged as a hate figure for AEK Athens fans in 1996 when he signed to manage their most hated rivals, Olympiacos. The Serbian coach had won two league titles at AEK as a player, and a further four as their manager, and his move to Piraeus was unpopular to say the least. Whilst he went on to win a further four championship titles, whenever returning to Athens, Bajevic's dugout was pelted with bottles, oranges and eggs.
He returned to AEK in 2002 but the fans simply could not forgive him. He continued to be abuse and attacked, whilst black flags were waved around the Olympic Stadium. He eventually quit saying that he "couldn't get past" the abuse. Remarkably, in 2008 he agreed to return for a third stint at the club, but was still hated by large groups of fans and was eventually physically assaulted after a pre-season game in 2010. He finally retired later that year.
Iain Dowie
In May 2007 Iain Dowie left Crystal Palace by mutual consent, citing a desire to be closer to his family in the north. Eight days later he was unveiled as manager of London rivals Charlton Athletic, a move that resulted in successful court action from Palace chairman Simon Jordan. Tension was always going to be high ahead of Dowie's return.
Despite being the most successful manager in Palace's history, Dowie was greeted back at Selhurst Park with a cacophony of boos and received sporadic abuse throughout a 1-1 draw the following year.
Felix Magath
Over the years, Felix Magath has managed eight different German clubs and left a trail of discontent amongst them. Once described by former Frankfurt player Bachirou Salou as the "last dictator in Europe", Magath is noted for his tough management style and has won three Bundesliga titles in his career.
In Germany, opposition managers are rarely met by hostile chanting but when Magath's Wolfsburg side visited his former club Schalke this season, he was met by hatred from both fans and players. Jefferson Farfan made a point of celebrating his goal in front of the Wolfsburg bench, shouting obscenities at Magath, whilst the supporters sung chants of "Felix Magath out!" and "Felix Magath, never again!" Magath's rare position of being an ex-manager of seven of the 18 Bundesliga clubs sees him being a target most weeks in Germany.
Leonardo
Many players have appeared for both Milan sides down the years, but not quite so many tread the path as managers. Leonardo spent the best part of his career with AC Milan before eventually retiring at the club in 2003 when he then became a coach. After Carlo Ancelotti left the club for Chelsea in 2009, Leonardo was named as the new head coach of Milan, despite not holding the necessary badges. After a trophy-less season the Brazilian agreed to leave with an emotional farewell in the final game of the season.
Seven months later Leonardo remerged as the new head coach of Inter Milan, taking over from Rafael Benitez only four months into the new season. AC Milan legend Marco van Basten said that he could not understand the logic behind the move, whilst a number of others also voiced their disbelief.
At the San Siro derby, the Milan fans unfolded a banner showing a painting of the last supper with Leonardo depicted as Judas - a common theme amongst fans feeling betrayed by their ex-managers. The former Milan and Inter manager is now director of football at Paris St. Germain.