Gus Poyet already looking ahead to Sunderland's clash with Crystal Palace
Sunderland boss Gus Poyet believes next week's clash with Crystal Palace is the club's biggest game of the season.
Last Updated: 09/03/14 1:06pm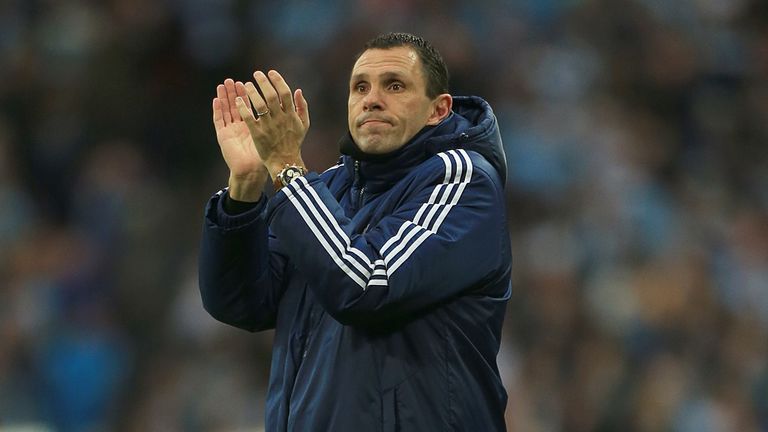 Despite reaching the final of the Capital One Cup and being in with a chance of another trip to Wembley, Poyet has placed a higher priority on next Saturday's clash with Crystal Palace which could make or break their Premier League survival hopes.
Victory over Hull on Sunday would guarantee another trip to the national stadium, but Poyet insists winning three points against Palace at the Stadium of Light remains foremost in his thoughts.
Asked if he would be too disappointed to miss out on the FA Cup semi-finals, he said: "It's a good question, but I haven't even thought about it.
"I know Palace is a massive game, I can confirm that. I think it's bigger than any game we have played so far, including the cup final.
"Now this one is Hull and it's a week after, Palace, so it's not like it's two days after. We are going to use the squad the best we can and try to win the game.
"But there are a few games from now on and the position we are in the league, they become massive and Crystal Palace is the first one of them."
Poyet takes his team to Humberside after a week of lifting his players following their 3-1 defeat to Manchester City at Wembley on Sunday.
Sunderland led at half-time before being blown away by a powerful City comeback, and Poyet believes his side should take encouragment from their performance.
He said "I read letters from people at Brighton when we were beating a Premier League team at half-time and it was the best moment of their life, and I thought, 'Oh my God', how you can make people feel.
"Imagine the Sunderland fans at half-time at Wembley? But we always say at the end of the day, it's about winning and we didn't.
"It was a strange evening at the hotel. It was a mix of yes, being proud, but sadness, but that's natural when you care and you don't achieve what was so close."
Hull completed a league double over Sunderland last month, but the Black Cats finished with only nine men at the KC Stadium on November 2 and 10 last time out.
Poyet added: "I think the team would like to go there and put a proper performance on - 11 v 11. If, at the end of the day, they are better than us, then we will take it."
Poyet also gave a cryptic reply to questioning about a replacement for departed director of football Roberto De Fanti, with speculation suggesting the club are poised to bring in Hamburg technical director Lee Congerton.
When asked about the reports, he said: "It's normal all over the world.
"Because you are not used to it, the words 'technical director', 'sporting director' mean 'devil', 'terrible'. It's normal.
"The most important thing is the relationship between that person and the manager or the head coach. It needs to be spot-on, it needs to be clear, it needs to be honest, it needs to be in the same direction.
"It needs to be special because if not, it's not going to work. It's about working together, understanding each other, knowing what is needed and doing your job.
"Apart from that, again for me, it's natural. I would take the situation, to work with someone in that role. It's natural, I am not worried at all.
"Now, if it's going to work or not, I don't know. I hope."