West Brom's Zoltan Gera hopes to build on goal against Sunderland
West Brom midfielder Zoltan Gera says he hopes to find the net more regularly despite scoring on Saturday.
By Juha Pal
Last Updated: 26/11/12 3:48pm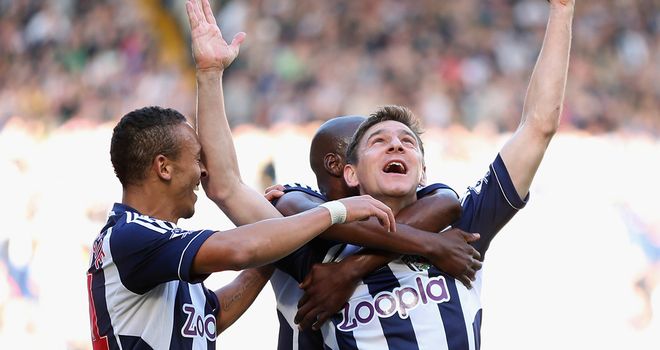 Saturday's victory ensured that the Baggies' fine form continued as they moved up to third in the Premier League, just four points behind leaders Manchester United.
The Hungarian opened the scoring at the Stadium of Light with a 25-yard strike but he has admitted that he wants to work on scoring the simpler goals.
"I'd like to score more goals, the kind of goals which are scored by strikers, when you only have to kick the ball into the net after a rebounded ball. This is part of the game in which I should develop," he told Hungarian website www.origo.com.
"It's a good feeling to score a big goal but I'm not a player who just concentrates on goal scoring. Sometimes, fortunately I can score a big goal but I know it's not only a goal which shows my performance. A goal is just an extra thing. I would like to be a player who plays well every time - no matter if you scored a goal or not.
"I was happy to play behind the strikers, I'm happy to play regularly and it's a good period in my and in the team's life.
"People are looking for the reasons of our good results and some think we'll get behind sooner or later and the other teams will prepare more time for the game against WBA. Finding out our secret can be the expert's job; I don't really mind what they write about me or about our team.
"I let them find, meanwhile we're just preparing for our next game. We know that we have to show a balanced and good performance in order to stay forward in the table."