Steve Clarke wants West Brom to power past 50-point Premier League mark
West Brom manager Steve Clarke says he is determined to make sure the Baggies do not let their season fizzle out.
Last Updated: 09/03/13 2:15pm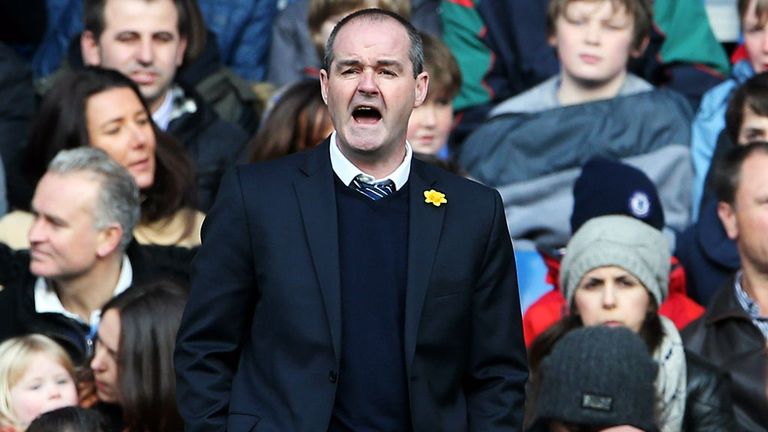 Clarke's men are ninth in the Premier League table and have already reached 40 points ahead of their home game against Capital One Cup winners Swansea on Saturday.
But Clarke wants his side to try and push on up the table, while he also sees Saturday's game as a chance for a bit of revenge, following a 3-1 loss at the Liberty Stadium earlier this season.
"We went down there on the back of four wins and, for 30 minutes, it's the best any team has played against us," said Clarke.
"It is probably one of the best 30 minutes I've seen from a team in the Premier League for a number of years.
"I thought they were outstanding that night and we got a bit of a tonking. We look forward to the chance to try and put a few things right on Saturday.
"We will be looking at different things and ideas, and hope we can find a way that is a bit different to how we've played against them before.
"We've been neck and neck all season with Swansea in the league, and they also managed to put together a cup run. We had hoped we would do so this year, but didn't manage to do it.
"Hopefully that will give us a target for next year, because you have seen the sort of accolades Swansea have received.
"Now you look, with 10 games to go, that we could still break the 50 point barrier with a reasonable run of results.
"Hopefully we can break it by more than one or two points and get towards the mid-50s or top end of the 50s and make it a really good season.
"It's not as if we are miles away from the pack who are chasing us. They are within catching distance so we have been mindful that, if we don't keep picking up points, ourselves - and Swansea - can be caught by teams below us.
"We have to just focus on the job in hand. Swansea have won a domestic trophy which makes it a fantastic season for them.
"If it ended tomorrow for Swansea, they could say it has been a fantastic season. If it ended for us and we finished on 40 points, I think it would be disappointing for us."