West Brom's greatest?
Who has been West Brom's best manager? Sky Sports is launching a vote to discover the finest boss in the history of each current Premier League club and we want your opinions
Last Updated: 13/08/13 5:15pm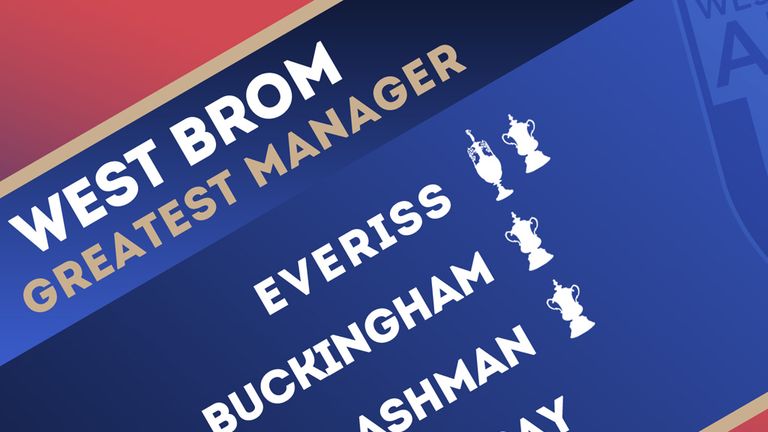 It is not an easy decision to pick West Bromwich Albion's greatest manager. Do you make your decision on loyalty, cup-winning exploits or promotion campaigns? Several men could claim to be the best but we want to establish the leading candidate. Have your say and vote in our poll to pick West Brom's finest manager from our shortlist of Fred Everiss, Alan Ashman, Vic Buckingham and Tony Mowbray. Sky Sports will announce the winner in the week commencing 12th August.
Fred Everiss (1902-1948)
Everiss is technically the longest serving manager in English football history having led the Baggies from 1902 until 1948 under the title of secretary-manager. He actually joined the club in 1896 and remained as a director of the club until 1951, meaning his association with the club lasted a total of 55 years.
Alan Ashman (1967-71)
After joining from Carlisle in 1967, the Rotherham-born manager led the Midlands outfit to the FA Cup in 1968, their fifth triumph in the competition. Jeff Astle was the main man in Ashman's side, scoring the winner in the 1968 final and a consolation in the Baggies' 2-1 defeat by Manchester City in the 1970 League Cup final. Rumour has it Ashman was informed of his dismissal in 1971 by a waiter whilst on holiday in Greece.
Vic Buckingham (1953-1959)
He is Albion's longest serving post-war manager after six years at The Hawthorns in which time he guided them to the 1954 FA Cup and finished second in the league the same year. Buckingham also took charge of West Brom's biggest home win in their history, 9-2 over Manchester City in 1957. He went on to manage Barcelona and Ajax where his football philosophy influenced the likes of Johan Cruyff.
Tony Mowbray (2006-2009)
Mowbray joined the Baggies from Hibernian in 2006 and set about arresting a poor run of form that had seen them look more like relegation candidates than the promotion chasers for which they were being tipped. He guided them to fourth place but missed out on promotion, losing 1-0 to Derby in the play-off final. He undertook a major overhaul of his squad that summer and it paid dividends as West Brom were promoted as champions and reached the FA Cup semi-final while playing an attractive brand of football. Relegation from the Premier League the following season did not diminish Mowbray's popularity amongst the fans but he left for Celtic in the summer of 2009.
Gary Megson (2000-2004)
Having taken over close to the end of the 1999/2000 season, Megson saved West Brom from relegation to the third division of English football at a time when the club were in disarray. Two seasons later, he guided West Brom to the Premier League, where they spent one season before dropping back down. However, Megson was then again to mastermind another promotion campaign back to the Premier League.
Who do you think has been the greatest manager in West Brom's history? Have your say via the feedback form below and vote in our poll. Voting closes on 9th August