Premier League: FA charges West Brom's Nicolas Anelka over 'quenelle' gesture
The FA has charged West Brom's Nicolas Anelka following his 'quenelle' gesture made in last month's match at West Ham.
Last Updated: 23/01/14 7:21pm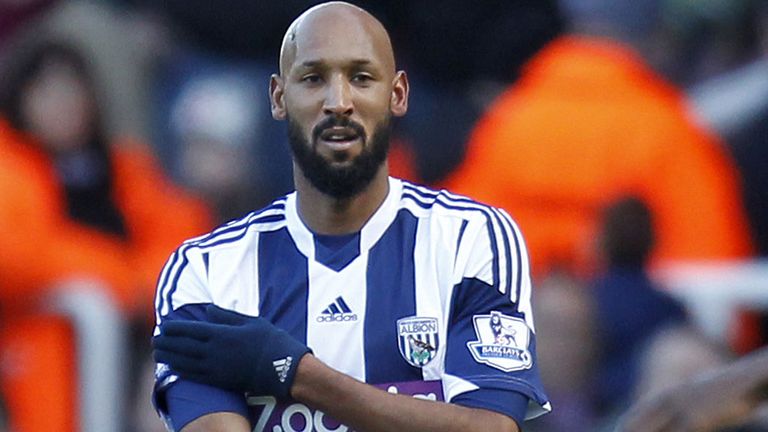 The West Brom striker made the gesture, which is considered to be anti-Semitic, while celebrating a goal in the Premier League match against West Ham at Upton Park on December 28.
The former Arsenal and Real Madrid star has agreed not to perform the salute again after the club accepted it had caused some offence but there has been no apology from the player.
The FA engaged the help of an expert to decide whether charges should be brought having spent several weeks working on the case due to its sensitivity.
A three-man independent regulatory commission will now be appointed to deal with the case - either to decide on the sanction if Anelka admits the charge or to hold a disciplinary hearing if he denies it.
In a statement, the governing body said: "The FA has charged the West Bromwich Albion player Nicolas Anelka following an incident that occurred during the West Ham United versus West Bromwich Albion fixture at the Boleyn Ground on 28 December 2013.
"It is alleged that, in the 40th minute of the fixture, Anelka made a gesture which was abusive and/or indecent and/or insulting and/or improper, contrary to FA Rule E3(1).
"It is further alleged that this is an aggravated breach, as defined in FA Rule E3(2), in that it included a reference to ethnic origin and/or race and/or religion or belief."
West Brom released a statement of their own claiming they had 'noted the charge' adding: "Anelka remains available for selection until the process has reached its conclusion. Following this, the club will conclude its own internal inquiry."
Anelka, who is 'now considering his options', tweeted after the 1-1 draw with Everton on Monday: "Big thanks to @WBAFCofficial for the support on this story and also to the West Bromwich fans who were magnificent tonight."
Anelka's actions have already been criticised by Piara Powar, the executive director of FARE (Football Against Racism in Europe).
Powar said recently: "The rules are clear. It is now a minimum five-match ban for any player involved in things related to race or religion.
"We do a lot of monitoring across Europe and we know about the dangers of the Far Right who are very active in football across the continent."
Powar also admited being surprised and disappointed by the lack of an apology from Anelka.
He added: "Whatever he meant by the gesture, the apology should have been forthcoming immediately.
"The first rule for a player who does something that causes such offence like this is that they should apologise and accept that it might have caused offence. To hide away is just the wrong approach."