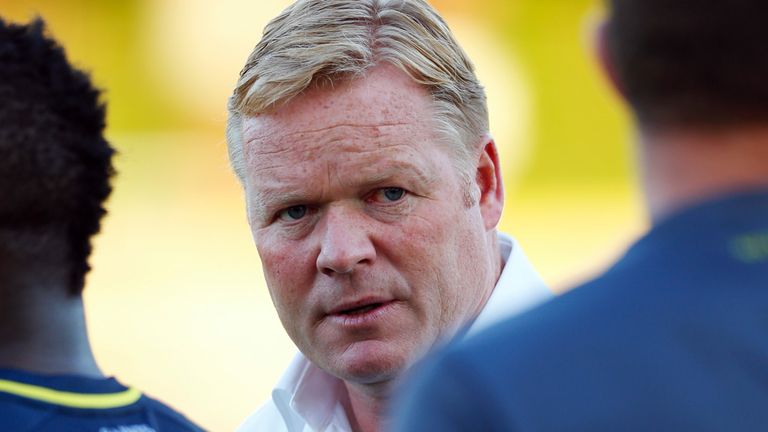 Ronald Koeman acknowledges that Southampton need to improve as an attacking unit following a 0-0 draw with West Bromwich Albion.
Opportunities were in short supply in the Premier League clash at St Mary's on Saturday, with two evenly-matched sides cancelling each other out.
Dusan Tadic did come close for the hosts during an uneventful opening 45 minutes, while James Ward-Prowse struck the outside of the post with a second-half free-kick.
Maybe it was a typical 0-0 match, but I expect a little bit more than our performance today.
Ronald Koeman
Koeman, though, concedes that his side were found wanting in the final third and must find a spark from somewhere if they are to collect their first win of the new season.
The Dutchman told Sky Sports when asked if it had been a frustrating afternoon for Southampton: "A little bit, yes, about the way we played.
"The first 45 minutes, it was difficult. West Brom are a very organised team and we played too slowly. We played too slowly in building up and we didn't have the quality to create a lot of opportunities.
"Maybe it was a typical 0-0 match, but I expect a little bit more than our performance today."
Southampton's new boys Tadic and Graziano Pelle produced plenty of effort but little end product, with Koeman aware that they will need time to settle in the Premier League.
He added: "It's more difficult - defenders are stronger, more physical and you need to play at a higher tempo.
"We need more running players from the midfield; he (Pelle) can't do it by himself. But in the final pass it wasn't good enough today."
Dipping back into the transfer market could be the answer to Southampton's problems, with Koeman admitting that he remains open to further additions.
He said: "We are always trying to bring good players in. I think we could use another attacking player because on the wings, maybe we have a shortlist there.
"We look forward, but the team had a good attitude today. Little bit disappointed about the way we played today, but we got one point and that has to give us confidence for today."