Premier League: Southampton captain Jose Fonte confident of good season
Last Updated: 31/08/14 11:12pm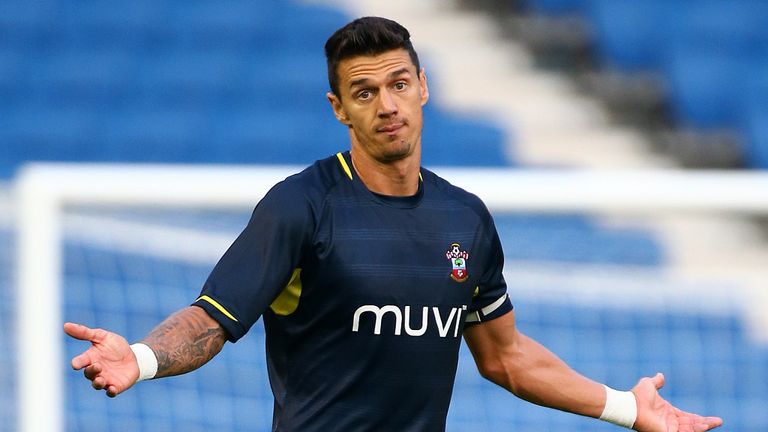 Southampton captain Jose Fonte insists Ronald Koeman's new-look squad is still bursting with quality despite the loss of several key players from last season.
Adam Lallana, Rickie Lambert and Dejan Lovren all joined Liverpool this summer, while youngsters Calum Chambers and Luke Shaw moved to Arsenal and Manchester United respectively.
And Fonte, who took over the Southampton captaincy from England midfielder Lallana, is convinced the squad has the ability to match their eighth-place finish in the Premier League last season.
"For sure, we have lost some good players, but this team still has enough quality to have a strong season and with the additions the club were able to bring in, they have shown their potential," Fonte said.
"You know that if you come to this club, you have to play and not be afraid to have the ball, to come and get it, to be dynamic.
"We have been training on that - the manager keeps talking to us about it.
"The manager came with a few, but important details - how he wants us to play and what he wants us to do.
"We have shown that we can do it, but we need to be consistent."
Fonte added: "It is hard to say where we can finish, but we have the quality to be very competitive.
"If we keep working hard and playing like this we can give ourselves a good chance to finish - if not in the same position - then higher."
Midfielder Morgan Schneiderlin scored twice in the 3-1 win at West Ham on Saturday and Fonte says the Frenchman, who was the subject of a bid from Tottenham this summer, remains a key player for the Saints.
"We know what a good player Morgan is because we train with him every day," Fonte said.
"Sometimes these things can play with your mind, but he has been a very good professional for us, and we are just glad that we still have him.
"Against West Ham, he has shown again why there is so much interest in him. We are pleased he is still here and hope he will keep being here."
Southampton have declared an interest in Tottenham's Andros Townsend and Fonte believes the England midfielder would be an excellent acquisition for the club although a deal appears highly unlikely.
"He's different from what we have," added Fonte. "His pace and his tricks would be good for us so we'll see what happens but he would be a good addition, yes for sure."