Cardiff City hold meeting with Malky Mackay future still uncertain
Cardiff City board members - including chairman Mehmet Dalman - have met with manager Malky Mackay.
Last Updated: 14/10/13 10:22pm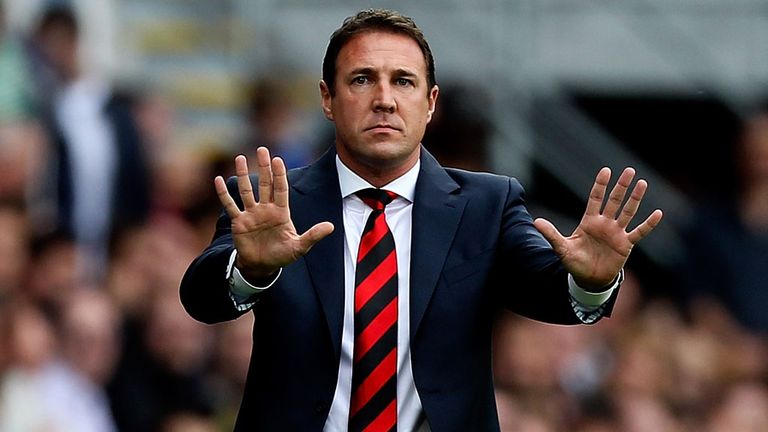 Mackay is seeking assurances that he retains the support of owner Vincent Tan - who was not present at the six-hour meeting - following the departure of Head of Recruitment Iain Moody, one of his closest aides since their time together at Watford.
Moody has been replaced by 23-year-old Alisher Apsalyamov, a family friend of the club's Malaysian owners who had until recently been helping paint the ground as part of a work experience placement.
Tan has claimed to have "every faith" in Mackay, saying last week: "I have supported him in the past and will do so in the future for many years to come," but the episode has cast doubt on the manager's future.
Mackay's agent Raymond Sparkes told Wales Online: "Malky... needs certain assurances that these things will be better as we move forward.
"We have to feel the climate is right to be able to move things forward. We know there are three or four 'Doubting Thomases' and Malky is aware right now there is not 100 per cent support for him in the club.
"Malky's main aim is to seek and clarify his position at the club moving forward. We would like to make it totally clear that Malky has no intention of resigning."
Bellamy's view
Cardiff striker Craig Bellamy believes the club are worse off following the departure of Iain Moody.
"Iain is a huge loss for us, a huge, huge loss because he is outstanding," he said.
"Any club with Iain Moody is a miles better club, without a shadow of a doubt.
"As a manager, Malky is the best young British manager out there and what he's done for this club in a short space of time is nothing short of remarkable," he added.
"That's not being disrespectful to the managers who were here before him but he's taken it on to another level.
"He's united the city and being from Cardiff that makes me feel very proud."